SO WHY NOT?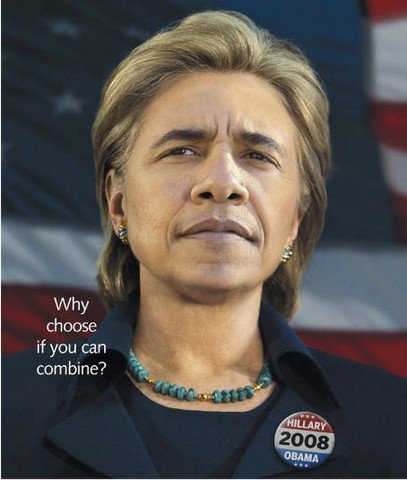 Hottie or Nottie?
As the post immediately below this one makes clear, I am not a fan of Senator Clinton.
She is a self-absorbed, dishonorable, egomaniacal, shifty, and unscrupulous beltway politician who doesn't have the moral fortitude to apologize for authorizing an unnecessary and unlawful war that has resulted in the evisceration of several hundred thousand lives.
And the nerve of some of her supporters to
suggest
that she has somehow "earned" the VP slot. Who has the audacity to insult a person as an inexperienced, corrupt, sexist, "secret Muslim" who might be assassinated and is the beneficiary of
"reverse racism"
- and then suggest that he somehow owes them anything? Like candidate, like supporters.
But all of the above is a long disclaimer to precede my current belief that Senator Clinton
might
be Senator Obama's best pick for Vice President.
At the very least, I believe she should be seriously considered.
Don't get me wrong. I, personally, would prefer a grip of other viable candidates over Clinton. Al Gore, for starters. (I really do think he could be persuaded.) Claire McCaskill. Russ Feingold. John Edwards. Joe Biden. General Wesley Clark. Jim Webb. Kathleen Sebelius. Jon Stewart. Even Republican Chuck Hagel would be attractive in the veep slot.
But Obama's goal should be to pick the person who will most effectively help him capture the White House. And Clinton may very well be that person who gives Obama the greatest net increase.
Sadly, I think there are currently at least a million voters who voted for Hillary Clinton in the primaries and will (a) vote for McCain, (b) vote for the Libertarian Party candidate, or (c) not vote in November -- before they vote for Obama.
Primary exit polls seemed to indicate that at least 10% of Clinton supporters fell into that camp. Let's say that half of those people change their minds once Clinton endorses him. If the remaining 5% of the 18 million voted for Clinton won't vote for Obama unless he chooses Clinton, that's 900,000 votes.
Are those 900,000 people ill-informed, unprincipled, or racist? No doubt. Given the similarities in their platform, a Clinton supporter who will vote for McCain over Obama is likely to be a naive ignoramus who is voting on the basis of trivial matters like flag pins or the middle name Hussein.
But you can't dismiss their numbers.
Plus, the polls strongly suggest that Clinton appeals strongly to groups like blue-collar workers and the elderly for whom Obama is apparently not an obvious choice.
If a million people transfer their vote to Obama because Clinton is his VP candidate, those voters may very well decide the fate of the election.
You might argue that this million will be canceled out by the millions more who find the idea of a black man/white woman ticket too much. But those bigots are not going to vote for a Democratic candidate anyway.
As for those of us who take issue with Clinton, we will undoubtedly recognize that she, if offered the veep slot, should not stop us from working to put Obama in the White House.
*

Although my wife (also an Obama supporter) hates this opinion of mine, I am nonetheless choosing to voice it because I seem to be in a very small minority of Obama supporters.
*

I'm not sure this debate is even necessary, however, as Clinton probably won't accept. Among other reasons, her husband will never release his list of donors and business dealings, which Obama would certainly require.
Labels: 2008 presidential election, Barack Obama, Hillary Clinton
--Junichi