FLAMING IN SAN FRANCISCO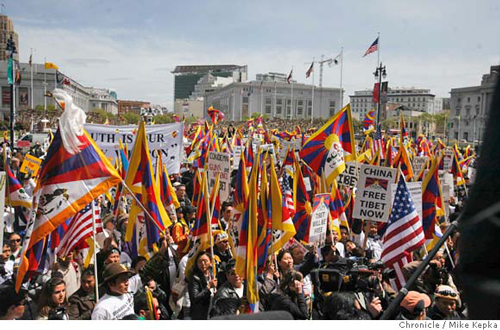 Torchbearers of protest?
I often waffle about the usefulness of protests. But today is one of those amazing days where it's easy to see how a massive demonstration can make a great impact.
As far as Olympic protests go, we've come a long way from "
Bong Hits for Jesus
."
With an international game of "Capture the Torch" forcing the flame to be alternately extinguished and vanished wherever it's gone, this fire is doing wonders to stoke the local, national, and international media to focus on Tibet, among other issues related to China.
Watching the live footage right now of a thousand SF cops protecting a torch that has come to symbolize the Chinese government's unconscionable abuse of basic human freedoms, I can't help but snicker at this quote from the Beijing Organizing Committee for the Games of the XXIX Olympiad:
*

Finally, is it me or are the pro-China demonstrators so nationalist that they are totally incapable of participating in any meaningful discussion about China's human rights abuses?
Most of those I've seen or heard interviewed today either adamantly deny that the Chinese government has
ever
done anything wrong (
excuse me?
) or mistakenly believe that advocates for Tibetan freedom are vilifying and hoping to imprison all 1.4 billion Chinese people.
Is it not possible to be "proud that China is hosting the Olympics" and acknowledge that China has work to do in the arena of human rights?
To be fair, there are
some
who are able to make rational arguments for supporting the Olympics in Beijing while acknowledging China's abuses. But Helen Zia doesn't sound anything like PRC-supporting Cuckoo McCocoaPuffs on ABC right now.
Some have asked me how I would feel if other countries were protesting the torch because the games were to be held in the United States. My response: Great! If the games were held in Bakersfield, I would be simultaneously "proud that the U.S. is hosting the Olympics" and happy to accept the criticism that the U.S. has work to do in the field of human rights.
*

Related note: I guess Poplicks.com will now be officially censored in China.
--Junichi