DARING THE DEVIL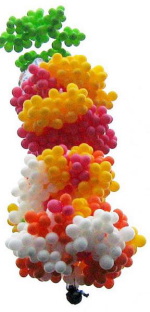 Yippppeeeeee!
Those who scour Brazilian news for potential nominees for the Darwin Awards are familiar with the story of Father Adelir Antonio de Carli, who set out on April 20th to break a record by floating more than 400 miles in the air while strapped to a thousand helium-filled party balloons.
I give Father de Carli credit for finding the most imaginative way to get high on 4/20.
Unfortunately, he drifted out to sea and has been missing for over a week. He had a GPS system on him, but didn't know how to use it and forgot to bring instructions.
The Brazilian Air Force and Navy are two of several government and private groups that spent days searching for him. After finding some of his balloons in the water, most searches have finally been called off today.
Am I the only one who considers this story an apt metaphor for George W. Bush? Consider the commonalities:
Wasted countless government resources on pointless expedition

Planned poorly; counted on God to guide him
Lacked exit strategy
Failed to accomplish mission
Retarded

(With thanks to A. Haden)
Labels: George W. Bush
--Junichi