ERIC O'HARA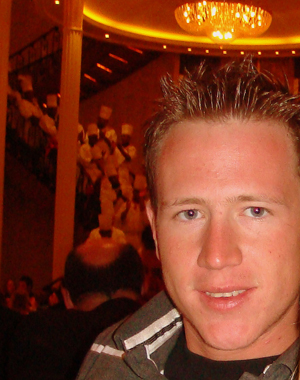 R.I.P. Eric O'Hara
Dima and I recently went on a Caribbean cruise, our one extravagant use of my
Millionaire
loot.
During the ship's nightly dinners, we had the privilege of being seated next to Sgt. Eric O'Hara, a member of the army's 82nd Airborne Division and the stepbrother of Heidi Montag from
The Hills
. (Small world, we thought.) Dima took the above photo of Eric in front of a cavalcade of singing chefs.
After leading dozens of missions in an extended tour of duty in Iraq and Afghanistan, Eric was taking a well-deserved vacation. We bonded while I gave him some basic strategy lessons in Blackjack. When asked, he humbly told us stories about his experiences in combat, which really made our "extreme" zipline excursions seem tame in comparison. When pressed, he shared his thoughts on his sister Heidi's celebrity and her plans to release an album.
This morning, I
read
that Eric passed away while helping to remove snow from an icy roof in Steamboat Springs, Colorado. It's hard to believe that he survived Tikrit, but then fell victim to a loose piece of ice.
I'm especially saddened by his death because one of my last conversations with Eric was about his thoughts on going to college. He wanted to get his bachelor's degree, but at 24, he knew he would be significantly older than other undergrads. He appreciated my assurances that he still looked 19 (in a good way) and had a long life ahead of him.
If any of Eric's family or friends read this, Dima and I offer our deepest condolences. We only had a week with him, but were left in awe of his bravery, kindness, and humility.
--Junichi