CLUES ON WHEN TO GIVE UP A LIFE OF CRIME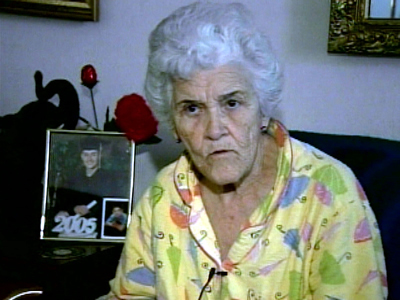 Don't mess with Bernie Garcia
My favorite
story
of the week:
Three men in their twenties hatch a plan to rob someone.
They pull up to a gas station and decide to snatch the purse of a woman.
An 83-year-old great grandmother, to be specific.
When one of the men tries to grab the purse, Great-Granny takes the pump and squirts gas on him.
The man keeps pulling on the purse, but she won't let go, even after being dragged several yards.
The man gives up and runs away.
The three men are later arrested.
Um, fellas, maybe you're not cut out for a life of crime when you can't even successfully snatch a purse from an 83-year-old unarmed great-grandmother who publicly
says she'd fight you again
, if she had the chance.
You guys are lucky that your mugshots aren't on the Internets yet, because I'd print out your photos and put it next to the word "weaksauce" in my dictionary.
--Junichi