DOPPLEGANGERS
Even today, after 35 years of having the name, I've always found "Oliver Wang" to be a rather strange moniker. Sure, there are a lot of unusual names amongst Chinese Americans in my generation...I've known Wellingtons and Franklins and - I kid you not, a pair of twins named Apollo and Mercury (shout out to the Roman pantheon) - but "Oliver Wang" seemed like a strange pairing between a classically British name and a ubiquitous Chinese one.
However unusual though, I've learned over the years that it's hardly unique (though hardly common either). When I attended UC Berkeley as an undergrad, there was actually another Oliver Wang there in the same dorm complex as I (Unit 3, holler) and we'd run into each other now and then and do the little, "what's up Oliver?" "Nothing much, Oliver" gag).
Thanks to the magic that is Google alerts, I've found yet another Oliver Wang: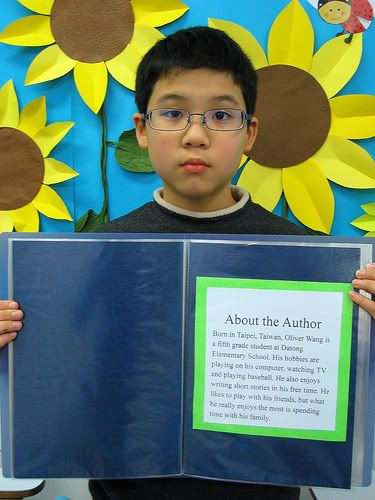 What that poster says is: "Born in Taipei, Taiwan, Oliver Wang is a grade five student at Datong Elementary School. His hobbies are playing on his computer, watching TV and playing baseball. He also enjoys writing short stories in his free time. He likes to play with his friends, but what he really enjoys the most is spending time with his family."
Not only that, but he's described by his English teacher as "super author," a honorific I dream about but haven't been bestowed with ;)
You can read his short story,
"The Haunted Basement," here
.
Does Junichi have any younger clones?
--O.W.