"WHO WANTS TO BE A MILLIONAIRE" AIRDATE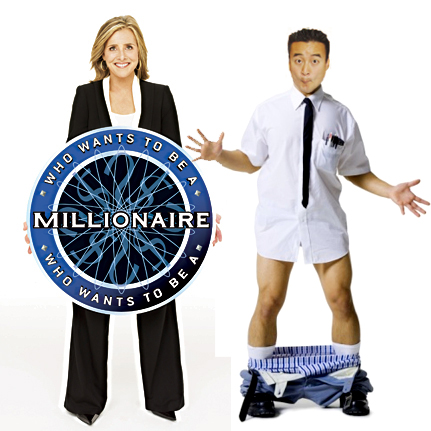 A preview of what I look like getting caught with my pants down
The dates are set.
I will be embarrassing myself by appearing as an ignoramus/contestant on the game show,
Who Wants To Be A Millionaire
, on this upcoming
Friday, January 11, 2008
and
Monday, January 14, 2008
.
Here are the channels and air times for most of the people I know:
San Francisco/Oakland: KGO 11:30 am
Fresno/Hanford: KFSN 11:30 am
Austin, TX: KEYE Noon
New York City: WABC 12:30 pm
San Diego: KGTV 7 pm


Los Angeles/Orange County: KCAL9 (Saturday 7:30 pm / Tuesday 6:30 pm)




Update: For those of us in LA/OC only: the show got preempted because of the Lakers game. So instead of Friday & Monday, it will be on Saturday at 7:30 pm and Tuesday at 6:30 pm.
In order to find out what channel and time the show airs in other parts of the United States, click here:
http://www.millionairetv.com/tunein.html
.
I will only appear for the last two minutes on the Friday 1/11 show, so if you have to pick one day to stay home from work, choose Monday.
Let's see if the cameras add 10 pounds to my dunce cap.
Place your bets now on the subject matter or category of the question that will ultimately cause me to leave the hot seat.
(This is assuming, of course, that I did not succeed in my last-minute effort to absorb all the knowledge of the world and win a million dollars.)
--Junichi