QUESTION OF THE WEEK #131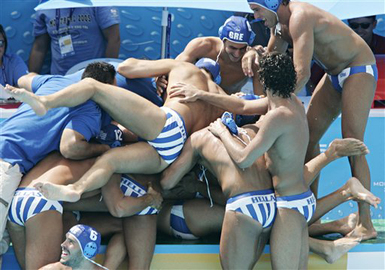 Don't worry, water polo players in this photo.
Poplicks is not a gay porn site. It just has a wide stance.
This Week's Question:


The

Orange County Register

recently reported that many photographs of unsuspecting underage male water polo players from several Southern California high schools were posted on various gay porn sites.

According to the

Register

:

"[I]mages of local high school athletes, some as young as 14, according to parents, are juxtaposed next to photos of nude or semi-nude young males and graphic sexual content. The photos are the subject of lewd comments from chat room participants as far away as Australia. ...

The presence of the photos on these Web sites has alarmed local parents, coaches and school officials and traumatized high school athletes who were unaware they were being photographed. In some cases, boys have sought counseling after learning their photos were on the Web sites, parents said."
Question: Would the boys and their parents still be traumatized if the photos were only being posted on websites catering to women?

In other words, how much of this controversy is about privacy and protecting children vs. homophobia?
Labels: QOTW
--Junichi