2007 IN MUSIC PT. 1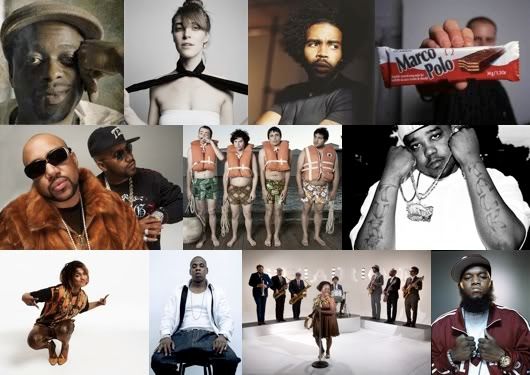 Yeah, I know - I'm a little bit late but this is the earliest I had time to work on this.
For whatever reason, I've decided not to participate in the big
consensus-making
projects
that I've contributed to for close to ten years now. The thing is: the only time these lists were meaningful to me was in my ability to advocate for something...if I felt like I wanted to make sure the Coup album got some shine or push up the singles I personally really liked. But instinctually, I have an aversion to list-making when it feels arbitrary or limited by nothing more than a nice, rounded number such as "10". There's a deeper issue too - namely that I've never listened to all the "major" pop albums in a single year; I can't even claim to have ever listened to all the major rap albums in a single year. Perhaps if I had ever been a full-time critic (or just incredibly obsessive), it might have happened but generally, I don't feel the obligation to have to be up on everything. There are other critics who've done that longer and better; I'm content with liking what I like.
2007, more so than probably any year before it, brought all this home because I've found myself less and less interested with contemporary pop music (hip-hop included), and much more invested in listening to music of the past. In other words, it's like I turned 35 and got reborn a baby boomer. I'm as surprised as you are.
Believe me, this is not something I'm proud of and I'd hate to think I'm (d)evolving into another one of those crotchety middle aged dudes who insist whatever music was hitting in 1989 is all the music I'll ever need. And it's not like I don't listen to new music...but it's that I don't see new releases as being inherently more interesting or compelling than older ones. It's not a great trait for a working writer to take on (though it certainly plays exceedingly well as a blogger) but that's the luxury of me
not
being one of my friends, like
Ann Powers
, or
Jon Caramanica
. It's their job to be up on the latest Lil Wayne + LCD Soundsystem collaboration whereas I'm still
idly flipping through my box of 45s
or "discovering" songs that have been out since May.
If all this reads as so much navel-gazing that's because, well, it is...but as some of my friends chide me - I tend to do a lot of my private thinking in public and my relationship to pop music - past and present - is never far from my mind.
In any case, this is all a long, long wind-up pitch to my picks for my favorite music of 2007 but this is, by no means, an attempt at anything that's definitive or comprehensive or even meaningful in any real way except that, for me, it gives me an excuse to revisit the past year and remember what the hell I've been listening to. You'll see a lot of sub-genre breakdowns because, well, I don't like lists but I like sub-genres. Here we go:
New albums I likedNew albums I lovedAlbums I might think are better later than I think they are now
Jay-Z: American Gangster. Two great songs ("Roc Boys" and "Success") but as far as "concept" albums go, I found this surprisingly thin. It's a better album than Kingdom Come but that's not saying much. Maybe a year or two later, I'll revisit this and think its genius but presently, I just find it to be an "ok Jay-Z album."
Peep: "Success"


Kanye West: Graduation. Not a bad album but not nearly as adventurous as his last and more to the point, it came off like Sunshine Anderson: I heard it all before. Then again, "Big Brother" alone makes this album completely fascinating but maybe not for the right reasons.
Peep: "Good Life"
Still remaining...Part 2.


Labels: music
--O.W.