A FAREWELL TO TWO ARMS (AND TWO LEGS)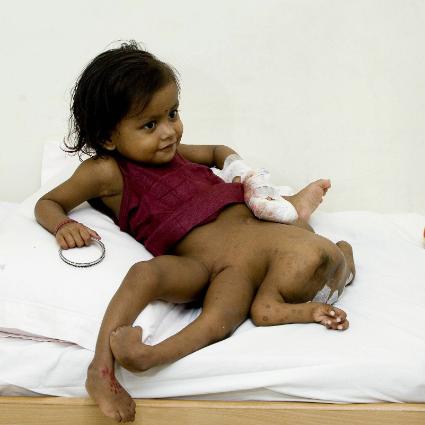 The face of isciopagus
I remain fascinated with the story of Lakshmi Tatma, a 2-year-old Indian girl (above), who was born with four arms and four legs after consuming her parasitic twin in the womb.
The extensive surgery to remove her twin was apparently
successful
, which seems like a miracle. The poor girl not only had four extra limbs, but she also had two spines, four kidneys, two stomach cavities, two chest cavities, and a grip of tangled nerves.
As much as I am intrigued by the details of the surgery, I am spending most of my time contemplating other questions:
Did Lakshmi's parents name her Lakshmi -- the four-armed Hindu goddess of wealth -- before or after they learned that she had four arms?


Is this the first time that a human being has been simultaneously worshiped as a goddess by a local village and wanted by the local circus?


Is the reason that we don't hear stories like this in the United States because of Americans' access to better health care and technology? Or do expecting parents simply learn about their eight-limbed fetus and secretly abort without telling me about it?



What if Lakshmi represents the next level of human evolution? Sure, she wasn't able to stand or walk. But did the parents consider the possibility that the surgery directly conflicted with God's plan to create a differently-abled goddess that could, for example, play a piano duet as a solo artist?
--Junichi