ASIAN AMERICAN SKETCH COMEDY, ANYONE?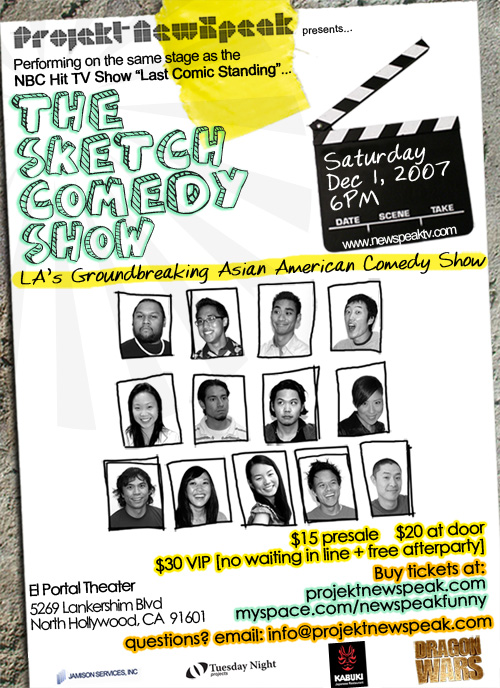 Those in SoCal should go check out the latest event produced by the good people at Projekt Newspeak: a Sketch Comedy Show on December 1st. I competed in one of their poetry slams and can testify to the fact that they know how to put on a show.
Here are the deetz:
The Sketch Comedy Show will show live sketches by our comedic cast as well as filmed video sketches. Having the feel of Saturday Night Live meets The Chappelle Show, The Sketch Comedy Show will be taped with a live audience of over 350 and will ultimately be pitched to industry executives as a potential new TV show.
PRE-SALE TICKETS ARE AVAILABLE NOW!!!
Presale: $15
At the Door: $20
VIP: $30 (no waiting in line + free afterparty)
Tickets on sale at:

www.myspace.com/newspeakfunny

|

www.projektnewspeak.com | www.myspace.com/projektnewspeak
Questions? Email: info@projektnewspeak.com
The Sketch Comedy Show!
Sat., Dec 1st; 6:00 pm
at the El Portal Theater, North Hollywood
projektnewspeak.com | newspeaktv.com | myspace.com/projektnewspeak
--Junichi