VIOLATING THE GUY CODE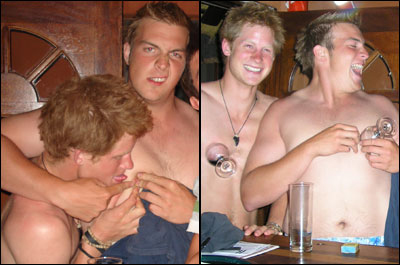 Third in line to the throne
I am very upset at the unknown male who released the above photos of Prince Harry on his recent holiday in Namibia to
the tabloids
.
Look, there's a clear code by which all men have agreed to abide.
When guys get together, we take off our shirts.
We lick each other's nipples.
We give our areolas hickeys with drinking glasses.
That's what we do.
We're dudes.
But we don't tell other people -- and by other people, I mean women -- about what we do behind closed doors. We don't divulge details. And we certainly don't share photos with the world.
I feel so violated right now.
Labels: Areola Hickeys, Guy Code, Prince Harry
--Junichi