PHOTO OF UNCLE AL ON GOOGLE MAPS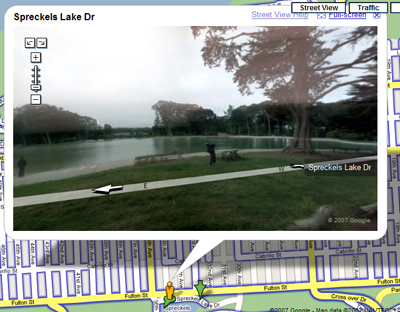 Google Maps is watching
Dear Uncle Al:
I am inspired that you get up at the crack of dawn and jog every morning.

I agree that it's good to get your heart rate up and enjoy the gorgeous views that the Richmond District has to offer.
I was also blown away by the Google Maps' "Street View" link you sent of your starting point in Golden Gate Park.

How crazy is it that Google's cameras captured the photo (above) of you stretching at Spreckles Lake?
I was disappointed, however, when I zoomed in on the photo of you and learned your true motivation for leaving the house every morning:
Now that I see the "gorgeous views" you take in, I understand why your heart rate is up and know why you get up at the crack of dawn.

Pervert.
Hopefully, Dawn doesn't realize you're staring at her crack.



P.S. Aunt Kimi bought you a treadmill.
--Junichi