WHOSE TRASH?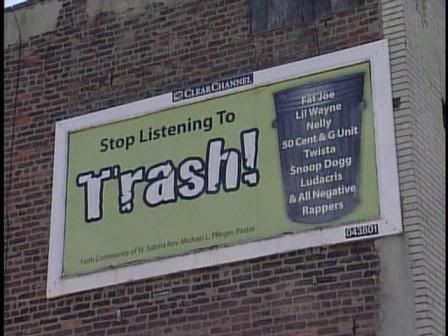 From SOHH.com:
"50 Cent, Snoop Dogg and Lil' Wayne are among seven rappers being targeted in billboards posted by a Chicago church for its "Stop Listening To Trash" campaign, which denounces rappers that demean women and perpetuate violence through their music.

According to NBC 5, St. Sabina Church put up twenty billboards across the city on Monday (June 18). The billboards read "Stop Listening To Trash," and also lists Nelly, Twista, Fat Joe and Ludacris.

"If we are going to end the violence and the disrespect of women, we must fight every form of negativity, including the music industry," Reverend Michael Pfleger told NBC 5. "When you disrespect women and you continue to demean a community or race by names and by language, that's unacceptable. We can kill with our words."

Local rapper Shala Esquire of the group Qualo, who admits to using profane language in his music, thinks the billboards are a good idea.

"I think the billboards are a bold step in a world that has been pretty cowardly lately," he said. "Hopefully it brings balance back to hip-hop so folks can move on to beeyatchin' about something else. I'm not going to say that we don't use certain words to depict the reality of life, but it's becoming kind of crazy and it's getting out of control. Don't fix the music, fix what causes the music."

Public Enemy front man Chuck D reportedly met with Pfleiger and Senator James Meeks on Tuesday (June 19) to discuss the billboards and rap music."
Of course, the irony? Look at who owns the billboards: Clear Channel. So basically, Sabina Church is PAYING one of the very entities responsible for spreading "trash" around.
Brilliant
.
(Thanks:
Soulstrut.com
)
--O.W.