SIZE IN AMERICA
Not the ideal Amazon woman
The images above and below are ads in Brazil for Fit-light Yogurt with a tagline that roughly translates to:
"Forget about it. Mens' preferences will never change."
Each ad is obviously a remake of a classic movie scene with a larger woman.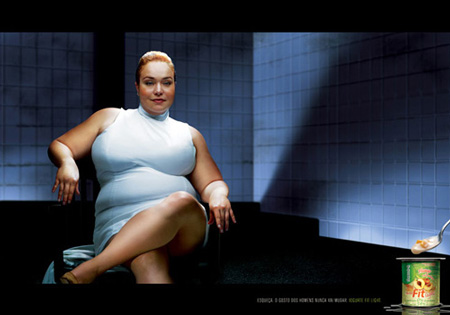 Is it me or would these ads never work in the United States?
The women above look sexy, confident, and clearly appeal to a lot of different men (and women) I know who like a little fruit at the bottom.
Undoubtedly, these plus-size models would have no difficulty collecting digits in any corner of this country.
I've never been to Brazil. Do they worship emaciated stick-figure women?
*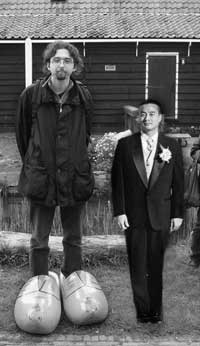 I wish I was a little bit taller
In other size-related news, a joint study by Princeton and the University of Munich
concludes
that the United States now has the shortest population in the industrialized world.
The shortest!
(Click
here
to read the actual paper published in the
Annals of Human Biology
.)
Strangely, the paper makes no mention of any non-European country. Isn't Japan an industrialized country?
Regardless, Americans no longer tower over everyone else, as we did in the mid-20th century.
The Dutch now stand tallest at #1. And here I thought that marijuana and clogs stunted growth.
Interestingly, the study doesn't include Chicano/Latinos or Asian Americans in its calculation of the average American height. (Not that these groups would have raised the average height.)
But even if the results had included Asian Americans in the calculation of average American height, you couldn't put much blame, if any, on Asian Americans for our overall shortage. The average Asian American high school student today is probably close to the national average. In any event, I am grateful for those that have effectively diminished the short-Asian stereotype, Yao Ming?
One could simply dismiss this news with the oft-repeated/rarely-true mantra that size doesn't matter.
But this shawty ain't snappin' because Americans are shrinking, relative to other industrialized nations, because of our country's poor nutrition and health care.
I don't know about the veracity of any of these claims, but I do know that I am typing this with one hand while using my other hand to shove a second Taco Bell Crunchwrap Supreme into my mouth.
Hey Hans, can you grab me a napkin and some Robitussin from the top shelf?
Labels: Advertising, beauty
--Junichi