POPLICKS RADIO: JUNE 2007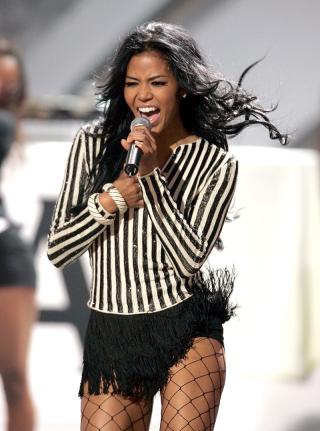 Amerie didn't have time to fully change after her Foot Locker shift



Here's the track listing for this month's Poplicks Radio, available for your listening pleasure on the right column of this page:
"Late in the Evening / Tarde En La Noche" - Spanish Harlem Orchestra feat. Paul Simon

New York City salsa is hot! I'm not much of a Latin music aficionado -- although I do own Los Del Chipmunks' cover of "Macarena" -- but I still have the hubris to declare that

United We Sing

by the Spanish Harlem Orchestra is one of 2007's best albums. On this track, Paul Simon busts out with some español and upgrades his own classic with the help of pianist and arranger Oscar Hernández.

"The Party" - Justice
What do you get when you blend Three Six Mafia + L'Trimm + Daft Punk + Fergie + early 80s synth-based soundtrack music and mix it with French crystal meth? This acquired taste, off the uneven album, † (

Cross

).

"Sex Machine (Readymade Jazz Defector)" - James Brown

As a rule, James Brown songs are never improved when remixed. But I'll be a damned licking stick if this track doesn't come close. This cut uses an alternative JB intro and a double-time ballroom beat to flip the script while still respecting the original. The album it comes from -- Dynamite X -- is strangely not available in the United States.

"Gotta Work" - Amerie
Yes, this is an obvious rehash of the formula perfected by Amerie's "1 Thing." But who's complaining? To my amazement, Rich Harrison had nothing to do with this track or any track off the new album.

"Hospital Rooms Aren't For Lovers" - Bear Colony
This song is perfect for people who think Death Cab for Cutie needs a drum machine and more morose and scatological lyrics.

"Supreme Evil" - Go Home Productions (ELO vs. Diana Ross & The Supremes vs. Michael Jackson)

Go Home Productions has unleashed arguably the best mashup in history, and I don't say that lightly. The chord changes work perfectly - ELO's classic "Evil Woman" piano riffs sound as if they were recorded for both Michael Jackson's "Bad" and The Supreme's "Stop! In The Name of Love." Moreover, there isn't much outrageous chopping or tempo/pitch shifting. Plus, I can't get enough of ELO's eight-count string break that the Pussycat Dolls sampled for "Beep." Honestly, I'd much rather hear -- get ready for blasphemy -- this version of MJ's and Diana Ross's vocals.

"When Your Mind's Made Up" - Glen Hansard & Marketa Iglóva
This is an A- song from a B+ movie,

Once

, which is the best ... emo anti-musical musical movie about a Hoover vacuum repairman who almost connects with a Czech immigrant in Dublin ...

ever

. While the movie and the soundtrack are a bit too subdued for summer, I appreciate the honesty of the songs. I'm highlighting this track because I'm a sucker for songs in 5/4 time signature.

"Innocence" -
Björk
Volta

has turned out to be the third consecutive underwhelming Björk album, but "Innocence" is one of several gems that stand out. Anything that maximizes Timbaland's syncopated punching sounds and Björk's nonsensical soaring lyrics is worth everyone's attention.

"Yeah (Bhangra Remix)" - Usher
I need somebody to send me or point me to some good bhangra tracks. I can't keep getting my fix off this old Usher remix/mash.

"How I Go" - Yellowcard feat. Natalie Maines

Who would have guessed that Natalie's best vocals would show up on a sappy Yellowcard ballad? This is a guilty pleasure to the Nth degree. I'm impressed this song has resisted becoming the theme song to every other show on the CW.

"Take Me Home" - Brother Ali

Now that I'm a paying subscriber to

Legally Blind Albino Muslim Rappers Quarterly

, I feel more confident in promoting yet another Brother Ali cut. The last verse of this song is sicker than Andrew Speaker. For the Sussudiophiles out there, it has nothing to do with Phil Collins' "Take Me Home," presumably because Bone Thugs N Harmony already ruined that unclassic for everyone. Cop the new album --

The Undisputed Truth

-- and be more convinced that hip hop is not dead.
"Inversion" - Mark Ronson

Mark Ronson apparently recorded some magic with a horn player, a rhythm section, a piano player, and a sample of someone's hiccups in reverb, but he couldn't find a 12th guest vocalist for the album. Thankfully, he made room for "Inversion" in

Version

. I get incensed every time it fades prematurely, however. Extended 12" single, please!

Hope you enjoyed. If you prefer to listen on a free-standing player, click below:
Labels: Poplicks radio
--Junichi