DEVASTATING CAREER-THREATENING INJURY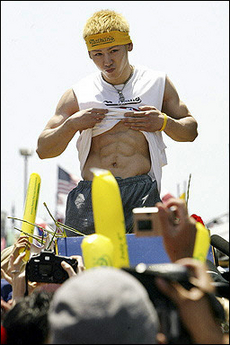 The end of an era
Takeru "Tsunami" Kobayashi, the Lance Armonstrong of competitive eaters, has an
arthritic jaw
and probably won't be able to compete in this year's annual hot dog-eating contest at Coney Island.
On his personal website, he wrote, in Japanese, "Already I can't open my jaws more than just a little bit ... There's no pain only if I open my mouth about enough for one finger. More than that is painful and I can't open it."
Can I please get a moment of silence?
That's the equivalent of learning that Michael Johnson had his feet severed while on an amusement park ride or that Tiger Woods is too black to compete in the PGA.
Kobayashi's withdrawal means that the Yellow Mustard Belt will be worn by somebody else this July 4th, which will cause great shame to the country of Japan, which will mean that he will have to commit hara-kiri and ceremoniously rip open his stomach with a sword.
Unless, that is, I step in and attempt to win the belt in his name.
--Junichi