ANIMAL BRAIN-TEASERS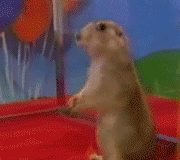 Are you smart enough .... HUMAN?
Ok, MacGyver, let's test your wits. Here, below, are three animal-related brain teasers for you to solve.
Question #1.
You have a pit bull, a chipmunk, and a caterpillar. You need to get them all to the other side of a river, but the only way is to swing on a vine, which means that you can only carry one of them at a time. If you leave the pit bull alone with the chipmunk, he will eat the chipmunk. If you leave the chipmunk alone with the caterpillar, he will eat the caterpillar. How can you get all three across safely?
Answer: see comments
*

Question #2
. A 1000-pound cow has wandered into your backyard and fallen into your swimming pool. How do you get him out?
Answer: if you're udderly stumped, click the video below:
Note: If you do not carefully rescue the cow, you might
sustain lacerations
to your face.
*

Question #3.
A black Labrador is strolling down MLK Ave. during a total blackout that has plagued the entire city. Not a single streetlamp has been lit for hours. Just as the dog is crossing the middle line of the road, a souped-up Honda Accord with two broken headlights races towards her, but manages to swerve out of the way just in time. The driver does not have night-vision goggles or any other unusual equipment. How could the driver have possibly seen the dog to swerve in time?
Answer: see comments
*

Bonus question:
What is the easiest way to get a non-flying squirrel to fly?
Answer:
Labels: brainteasers
--Junichi