WHY RICHARD COHEN WILL SMASH HIS PILLOW WITH A TENNIS RACKET EVEN HARDER THIS WEEK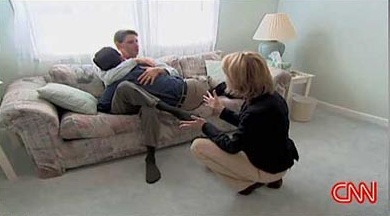 Bad Situation Room
Richard Cohen is one of the main leaders of the "ex-gay" movement that seeks to use therapy to "cure" people of their homosexuality.
Sure, his ineffectual quackery may be offensive and entirely antithetical to modern principles of science, medicine, psychology, and psychiatry.
But he makes
great
television.
As featured on CNN, Cohen's therapy includes a technique he's coined "Bioenergetics," which releases same-sex feelings through the act of banging a pillow with a 1970s tennis racket while screaming "Mom! Mom! Mom! Why! Did! You! Do! That! To Me!" like a scurrilous child blessed with a splash of Tourette's.
Cohen also utilizes "touch therapy" whereby he intimately hugs his male patients to recreate a healthy father-son bond. As you can see from the above CNN clip, the man-cuddling more closely resembles a healthy daddy-slave embrace, shortly before the leather paddle and the fist-shaped beads come out. Ahhh, if only Wolf Blitzer did more investigative journalism. (Sigh.)
A few weeks ago,
The Daily Show
amazingly scored an interview with Cohen. Jason Jones managed to further parody a man who is already a parody of himself.
Sadly, despite all this free publicity for his services, there's a non-silver lining in Cohen's
closet
cloud.
During the past week, others in the ex-gay movement have
disassociated
themselves with him, presumably in response to these questionable media appearances. (Cohen has even
apologized
for his appearance on
The Daily Show
.) His name or
his books
no longer appear anywhere on the website of the National Association for the Therapy of Homosexuals (NARTH) or Parents and Friends of Gays and Ex-Gays (PFOX). Needless to say, those breeders at NARTH and PFOX are just jealous b!tches.
Although the Ex-Gay movement is still disturbingly popular, it's kind of refreshing to see them swallow one of their own.
Labels: ex-gay movement, Richard Cohen, safe words
--Junichi