PRINCE MADE MY SON GAY
Purple Vein
Below are actual complaints about Prince's Super Bowl performance filed with the FCC, courtesy of
TSG
.
I, too, am sickened with disgust that Prince's "silluette" infected a potential football quarterback with both HIV and homosexuality, ...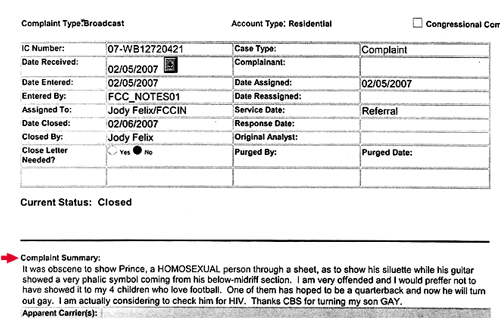 ... crippled one man with erectile dysfunction, and ...
... forced one parent to explain the meaning of a "wet spot ... on a cum covered sheet."

Thank God I don't have a high-def TV.
I would've gone postal if the Super Bowl halftime show prematurely forced me to have that awkward conversation that begins, "Kids, it's time I told you about that wet spot on Daddy's bed sheet."
Shame on you, CBS.
At least Janet Jackson's ninja star areola didn't give AIDS to someone's offspring!
Labels: FCC, Prince, Super Bowl
--Junichi