WHAT'S ARCHAIC ABOUT MEDIEVAL TIMES?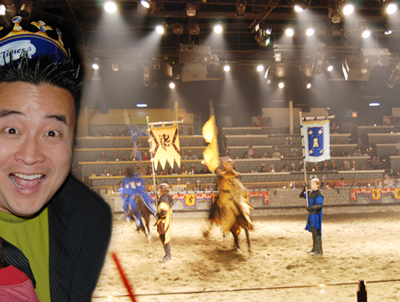 Please do not get medieval on my ass
I hate to make everyone jealous, but this last weekend, I went to Medieval Times.
Don't be jealous, since this was just my first opportunity to chow down on "dragon meat" from the "wench" who constantly asked "would m'lord like some more Pepsi?"
I was invited to come hither for a birthday party, just like hundreds of others a third my age. I was quite taken aback, however, when the announcer, after spouting a laundry list of birthdays, mentioned that a man in the crowd had just proposed to his girlfriend. (Surprise #1). And she said yes. (Surprise #2). Judging from the announcer's weary enthusiasm and blase tone while making the announcement, I gathered that marriage proposals happen quite often at Medieval Times. (Surprise #3).
As for the entertainment, I had the opportunity to peruse through the Museum of Torture. During the show, I watched a tyrannical but imbecilic king force men to fight in a senseless battle, while the crowd quickly chanted for blood based on faulty reasoning. As a weak coalition slowly dissolved, a traitor emerged and the crowd yelled for him to die. The king then commanded he be whipped and executed.
As my father-in-law pointed out, this establishment should be called "Current Times."
Labels: Medieval Times
--Junichi