WHO SHOULD WIN
Not Lost in Translation
I feel surprisingly indifferent about most of this year's Academy Award categories.
As usual, many of my favorite films were shut out altogether from Oscar love:
V for Vendetta
,
Thank You For Smoking
,
Inside Man
,
Word Play
,
Lucky Number

Slevin
,
Hollywoodland

, Kiss Kiss Bang Bang
, and at the risk of sounding biased,
Shut Up and Sing
.
I will admit enthusiasm, however, over the fact that 2006 was a relatively good year for racial and ethnic diversity. I'm amazed that eight out of the twenty acting nominees are people of color. I'm also psyched about three Mexican directors being honored for their work.
When
Dima
and I went to see
Babel
, we were both amazed to see a film that not only incorporated all four of the languages that we (kinda sorta) collectively speak -- Arabic, Japanese, English, and Spanish -- but also highlighted my penchant for urinating in bed pans and flashing my junk to strangers.
That said, despite seeing most of the nominated films, I feel ho-hum about most of the categories. Here below are the ones I do feel invested in:
Argentine musician Gustavo
Santaolalla
won this award last year for
Brokeback

Mountain
-- and quite frankly, he didn't deserve it. His work was minimalist and non-essential to that film. But in
Babel
, his score -- especially for the scenes in Morocco -- provided the perfect haunting sonic background to the film's three international settings. The instrumental track, "
Bibo
No
Aozora
," which features Japanese composer
Ryuichi
Sakamoto
, is one of the best closing songs of any film.
Was there even music in
The Queen
? I'm not joking. I don't remember a note.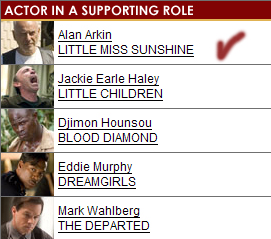 Alan
Arkin
deserves something for the amazing feat of stealing every scene in which he appears as a horny, heroin-snorting grandfather in
Little Miss Sunshine
.
Eddie Murphy will probably win, even though he doesn't deserve it. (Interesting side question: does
Norbit
hurt his chances -- for obvious reasons -- or does it
help
him because it allows the Academy to send Eddie the message that he should stick to more serious and respectable fare?)
Mark
Wahlberg
shouldn't have been nominated, although I don't mind him getting belated kudos for
Boogie Nights
. Ben
Affleck
, whom I normally abhor, was terrific in
Hollywoodland
, and should have replaced
Marky
Mark on the ballot. (Granted,
Pearl Harbor
was so bad that
Affleck
should be blacklisted for another decade or so.)
Rinko
Kikuchi
in
Babel
delivered one of the best acting performances of any human being in the last five years. Without saying a word. I can't imagine any other person anchoring a movie about global crises in the role of a deaf, volleyball-playing girl in Tokyo so desperate for intimacy that she tries to tongue-kiss her dentist.
Call me a hater but Jennifer Hudson's performance in
Dreamgirls
amounted to no more than a fantastic night on American Idol. Her voice was amazing, but her acting wasn't even half as good as
Shareeka
Epps
in
Half Nelson
or Maribel
Verdú
in
Pan's Labyrinth
, who both shamefully failed to make the cut.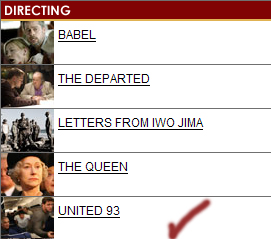 In making the excellent
United 93
, Paul
Greengrass
could have exploited a national tragedy and made it into a jingoistic TV movie of the week. He could have made the terrorists one-dimensional movie villains and made the passengers into Hollywood heroes. But he didn't. He didn't even make "Let's roll" into a catchphrase. Instead,
Greengrass
made what feels like a real-time documentary from the eye of a poet. As I noted in
this DVD review
,
Greengrass
' commentary demonstrate how much careful thought and research he put into this painful but exhilarating film.
Scorsese is obviously long overdue, but giving him an Oscar for the mediocre
The Departed
is almost as ridiculous as giving him an Oscar for directing Michael Jackson's video for "Bad."
Stephen
Frears
directing a surprisingly entertaining film about a subject in which I have very little interest. But most of that credit should probably go to Helen
Mirren
, Michael Sheen (a doppelganger for Tony Blair), and the screenplay. Most of the time, I felt like I was watching a really good TV movie of the week, which isn't saying much.
Labels: movies
--Junichi