R.I.P. MOMOFUKU ANDO
Breakfast, Lunch, and Dinner
If you are what you eat, then I am ramen.
And I owe my entire existence to Momofuku Ando, inventor of instant ramen and founder of Nissin Food Products Co., who just
died of a heart attack
at the non-instant age of 96.
As the inventor of Cup Noodle, Ando deserves credit for fueling students in higher education across the globe. His legacy also includes the
Momofuku Ando Instant Ramen Museum
in Osaka, Japan.
The picture of Ando, below, leaves no doubt that the man had flavor, and not just Oriental flavor.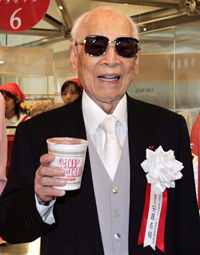 --Junichi