DO SPERM DONORS HAVE RIGHTS?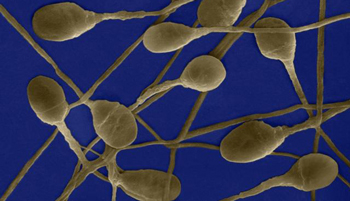 Spunk Rockers
The Kansas Supreme Court is about to decide
an interesting case
involving the parental rights of sperm donors.
Here are the basic facts of the case:
Single woman is inseminated with the sperm of a friend and gives birth to twins.

Mom says she doesn't want to share parenting; sperminator sues to establish paternity.

Sperminator loses at trial because Kansas law says that a sperm donor, via artificial insemination, is not the legal father of the child unless the donor and mother agree to it in writing.
For the most part, my sympathies lie with the mother. I don't think sperm donors, anonymous or otherwise, should have any parental rights.
It seems especially wrong when imagining two lesbians deciding to raise a family and suddenly being forced to share their child with their male friend who provided the man chowder and who now wants to be known as Daddy.
On the other hand, I don't think sperm donors should have any parental obligations, either. (One court in Pennsylvania forced a mother's sperm donor friend to
pay child support
.)
Even if the court agrees with me, there would be something unsettling about it. If the court sides with the mother, it would create a somewhat bizarre rule where a man's paternity rights and obligations solely depend on whether the sperm is donated artificially or through the "old-fashioned way." Paternal rights literally come down to a game of sexual tag between a woman's vagina and a man's penis.
In other words,
Male stranger has casual sex with woman during a liquor-fueled one-night stand at a rave --> man has paternity rights and 18 years of child support obligations.
Man and woman, who aren't married but have known each other for 20 years, decide to raise a child together (but don't put in writing) and man agrees to donate sperm via artificial insemination --> man has no rights and no child support obligations.

Seems like a rather strange outcome.
--Junichi