STILL IMPRISONED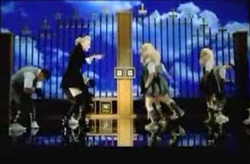 Memoirs of a Geisha + Amistad = Harajuku Girls
I can't believe the Harajuku Girls are still in captivity.
With her new album around the corner, I would've guessed that Gwen Stefani would drop L.A.M.B. like last year's handbags and move on to this year's latest fashion accessory. But apparently, third world orphans can't be trained fast enough to dance.
L.A.M.B. = Liberate Asians from Malicious Brainwashing?
Gwen's new album is called "The Sweet Escape," which is what I'm sure each of the Harajuku Girls pray for on an hourly basis.
In Gwen's new "Wind It Up" video (above), she is seen "winding up" all the Harajuku Girls, which barely counts as a metaphor since it's so literal.
In the video, Ms. Stefani is also seen slaving away at a sewing machine, which is ridiculous because we all know she keeps her Asian dancers in a sweatshop to do all the sewing.
Now that L.A.M.B. are wearing blond wigs, it makes it harder for me to tell if one of them is my cousin.
Personally, I'm rooting for "Baby" to take the K-Fed backup dancer route and marry Gavin Rossdale long enough to accumulate the capital necessary to drop a hip hop album. Now that sh*t would be both bananas and Popozao.
No doubt.
--Junichi