COLD LAMPIN' WITH FLAVOR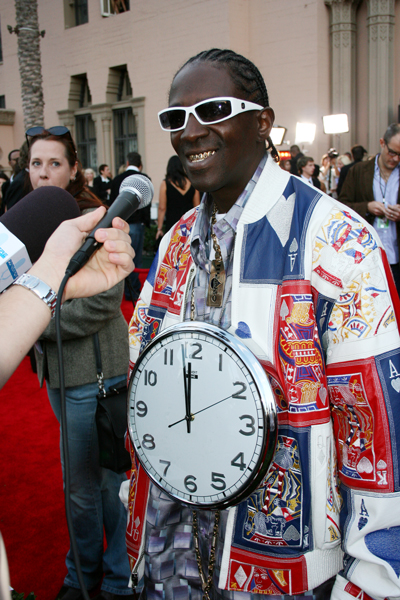 I got Flavor and all those things you know
This Thanksgiving, I'd like to give thanks to the
Dixie Chicks
, their managers, and
MSN
, who provided me with the opportunity to attend the American Music Awards last night. I was sitting in the third row, in fact. If I wanted to go to the john, I had to ask either Sean Paul or Snoop Dogg to stand up.
While trailing the Chicks on the red carpet, I had a chance to talk to Flavor Flav, which is as close as I'll probably get to living out my dream of having a full conversation with Chuck D. I also snapped his photo. (See above.)
Unlike all the press on the red carpet who only know Flav from his VH1 shows, I was asking him stuff about Public Enemy, who are apparently reuniting with the Bomb Squad for a new album.
In fact, when I asked him why his security guards weren't the S1Ws (Security of the First World), he seemed especially pleased, as I was the only one around who knew more about his "Supercalafragahestikalagoothki" days, as opposed to his
Surreal Life
days.
Backstage, I also saw Flavor being comforted by his publicist over the fact that he broke his clock while trying to hug host Jimmy Kimmel. No joke ... unlike 911.
--Junichi