QUESTION OF THE WEEK #79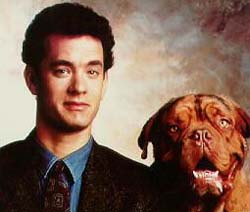 Turner & Hoochie
This Week's Question:
You come home and find your spouse/partner having sex with the family dog. What do you do?

Specifically, do you call the police and have him/her arrested, knowing that he/she will likely be convicted of -- and forever associated with -- bestiality?


From the Seattle PI: Michael Patrick McPhail's wife allegedly found her husband having sex with their "squealing and crying" four-year-old female pit bull terrier. She took photos with her cell phone, called the cops, and now Michael Patrick McPhail's name appears in blogs like this one.
--Junichi