ANGELIDES vs. SCHWARZENGGER
A Head in the Polls
Anybody watch the debate? Since when does "I can tell the joy in your eyes when you talk taxes" count as a substantive political discussion?
Quite frankly, I am dumbstruck over how Governor Arnold Schwarzenegger is maintaining a double-digit lead over Democratic gubernatorial challenger Phil Angelides.
In a national climate where Republicans are suffering a serious anti-Republican backlash and in a blue state where Democrats far outnumber Republicans, Republican Gov. Schwarzenegger is destroying Angelides by anywhere from 11 to
17 points
in the polls. Brutal.
The most shocking statistic is that
Schwarzenegger is even beating Angelides in the San Francisco Bay Area
: 42 to 37 percent. Mind-blowing, this is.
I have no difficulty understanding how Arnold won the recall election back in 2003. Gray Davis was immensely unpopular, Arnold came across as an independent maverick, and there was novelty value to electing The Terminator.
But today? Sure, Arnold has been good on environmental issues and has made more efforts to work with Democrats than any of the Republican leaders in Washington. He's also raised the minimum wage by $1.75, which is huge.
But otherwise, he's been a reliable GOP conservative, opposing progressive initiatives on nearly every issue ranging from immigration to education to labor to gay marriage to capital punishment.
He's also blatantly reneged on his original campaign promise not to take money from special interests.
And his tenure is marked with disturbing sound bites, like his recent suggestion that Mexican immigrants should be chided for
"try[ing] to stay Mexican."
Despite this, he maintains stellar approval ratings and is on pace to win by a landslide.
This is not a rhetorical question: Why?
The best theory I can come up with ...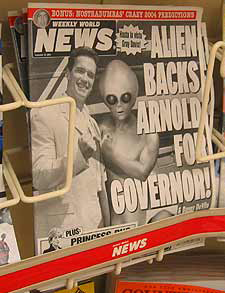 --Junichi