30 MORE FACTS THAT ARE DIFFICULT TO ACCEPT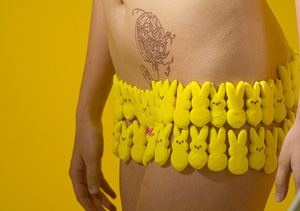 Respect my peeps
Had the United States ratified the Kyoto Protocol, the estimated expense of conforming to it would be about the same as the actual cost of the Iraq war thus far. (Source)



About 800,000,000 Marshamllow Peeps are consumed each Easter. (Source)


125,000 pigs were killed to make those 800,000,000 Marshmallow Peeps. (Source)



According to the Center for the Study of Sexual Minorities in the Military, the U.S. military has spent $364,000,000 since 1994 to replace service members discharged for being gay.




Anthony Kiedis once traded a Stratocaster autographed by the Rolling Stones for 10 minutes' worth of heroin.



On a related note, when I was in college, I once passed on an opportunity to see the Red Hot Chili Peppers in concert where Pearl Jam and Nirvana were the opening acts.



The Red Hot Chili Peppers once went by the following names: (1) Spigot Blister and the Chest Pimps, (2) the La Leyenda Tweakers, and (3) Tony Flow and the Miraculously Majestic Masters of Mayhem.


Radio Shack just laid off more than 400 workers ... via email. (Source)



Paul McCartney, born in 1942, is older than the transistor (invented in 1947), Israel (created in 1948), and cake mix (invented in 1949).



Medical studies have shown that four poppy seeds off of a bagel or muffin could cause a person to test positive for drugs.


It costs

the U.S. Treasury 1.4 cents to manufacture and distribute each penny.



According to Simon Le Bon, Duran Duran frequently opened up their dressing-room door and found Princess Diana under the table trying to get an autograph.


There hasn't been a credible lead on Osama bin Laden's whereabouts for two years now. (Source)



Britney's ex-husband, Jason Alexander, is reportedly dating Shar Jackson, who is Kevin Federline's ex.


A 51-year-old emergency-room nurse named Susan Kuhnhausen returned to her home one night and discovered a burglar -- a former convicted felon, in fact -- armed with a hammer. A struggle ensued and she ended up killing him ... with her bare hands. (Source)



Sandra Bernhard played Rhonda the Picturephone Operator on Pee-Wee's Playhouse.



According to a study, David Hasselhoff is the male celebrity most likely to be searched for on the Internet by 16 to 24 year-olds.



R. Kelly recently said, "Osama bin Laden is the only one who knows exactly what I'm going through."



Randy Jackson of

American Idol

was once a bass player who was a part of Journey's

Raised on Radio

tour. (See tour book below.)






Joe Ranft, the co-director of Pixar's

Cars

, died in a car accident before completing the film.



Pat Buchanan received an award from PETA. Really.



The mention of a mere word -- "felching" -- earned

A Dirty Shame

an NC-17 rating.



?uestlove of The Roots once fired an assistant over Scrabble because she was really condescending toward him after she beat him.



Victoria Beckham had May 8 tattooed on her arm in Roman numerals to honor the first time she and David Beckham did the humpty dance in 1997.



On Rick Ross's hit song "Hustlin,'" Ricks raps about how he used to inject steroids into his female drug smugglers.



There are no twins in the Thompson Twins, the Cocteau Twins, Aphex Twins, or the Ying Yang twins.



On the other hand, the sisters in Tegan and Sara, Nina Sky, and the Veronicas, as well as the Madden brothers of Good Charlotte, are all twins.



Tegan and Sara are not only identical twin sisters, they're also both lesbian.



Valerie Wilson, who works at a Long Island deli, just won $1 million on a lottery scratch-off game ... for the second time.



LL Cool J was once arrested for public lewdness in Georgia for humping a couch on stage.

Labels: Facts That Are Difficult To Accept
--Junichi