REVIEW: LITTLE MISS SUNSHINE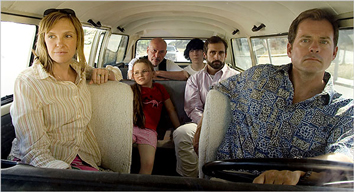 Nobody gets left behind

Here are some early predictions for the March 2007 Academy Awards:
Best Picture =
Little Miss Sunshine
Original Screenplay = Michael Arndt
Supporting Actor = Alan Arkin
These aren't particularly bold choices on my part considering the perfection that is the dysfunctional family road trip comedy,
Little Miss Sunshine
. Sure, most Oscar-worthy films haven't been released yet, but I can't imagine any other movie so universally enjoyable, deftly scripted, and honest as this one.
Sitting in a packed Manhattan theatre, I missed lines because the laughs came so fast and furious. But even had I watched it lone-bone, I couldn't have kept up with the zingers wrestling with one another in this inspiring script. Any moments where I got a whiff of predictability were quickly erased by left field gags like the one involving Buns & Ammo magazine.
Only after the lights went up could I absorb how brilliantly this movie managed to walk the line between cynicism and syrupy optimism, between reality and parody. This isn't the typical cheesy feel-good film (as some might suggest), nor is it the dark ironic satire lambasting the modern American family in all its dysfunctional glory (as others might suggest).
Little Miss Sunshine
stands perfectly at the midpoint of the spectrum between my two other favorite dysfunctional family movies:
Happiness
(way on the dark and cynical end) and
Parenthood
(way on the sugary and sweet end).
I suppose this range isn't surprising given that the film's directors, Jonathan Dayton and Valerie Faris, also supervised episodes of the subversive
Mr. Show
, as well as the sweet video for Smashing Pumpkin's "1979," Korn's dark "Freak on a Leash" video, Jane's Addiction's bizarre "Been Caught Stealing" video, and the cheesy black & white classic -- Extreme's "More Than Words."
The ensemble cast is stellar: Steve Carell plays it straight as a gay suicidal Proust scholar, Greg Kinnear arouses sympathy as a sad sack of a motivational speaker, and Toni Collette is the mother trying to keep everyone happy. Alan Arkin, however, gets the best lines as the perverted, coked-up grandfather of the clan who helps his young granddaughter, played by Abigail Breslin (talented as Dakota Fanning, except neither creepy nor annoying), prepare for a little girls' beauty pageant. Together, this cast manages to showcase the modern reality behind the middle class pursuit of the American Dream ... in under two hours.
At the end of the film, the entire audience was clapping, which I haven't experienced in a movie theatre since I saw
The Full Monty
on opening night.
--Junichi