MOTHER OF ALL BAD DECISIONS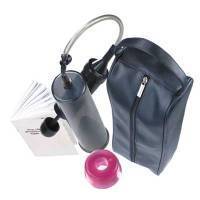 Pumps and a Bump Off the Plane
Sure, a
Hitler-themed restaurant
is a bad idea. Its successor -- Planet Hollywood -- also turned out to be a bad idea.
But here is a play-by-play breakdown of how 29 year-old Madin Azad Amin singlehandedly won my award for Worst Decision in the History of Mankind:
Mistake #1: Bought a penis pump

Mistake #2: Decided to take a trip to Turkey with his mother

Mistake #3: Brought the pump along for his journey to Turkey with his mother

Mistake #4: Boarded plane with the pump as a carry-on, instead of checking it in

Mistake #5: Told airport security that the penis pump was a bomb ... so his mom wouldn't find out that he had a penis pump
Unfortunately, Madin can't accept my award because he's awaiting his trial for felony disorderly conduct. Sadly, prosecutors could shaft the poor guy with the short end of the stick and seek a maximum penalty of three years in prison.
Link: AP Wire: Which is scarier, mom or airport security?
--Junichi