JAPANESE MAN SETS NEW WEINER RECORD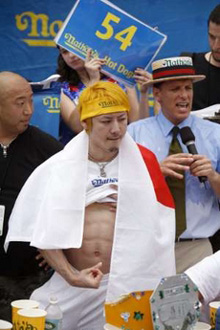 A victory to relish
Hot damn! Some people wanna be like Mike, but I wanna be like Takeru "Tsunami" Kobayashi, who
beat his own world record
yesterday and wolfed down 53 3/4 big ones in twelve minutes to win his sixth straight Yellow Mustard Belt at Nathan's Famous Hot Dog Eating Competition.
Also the record holder for chowing down 17.7 pounds of cow brains in 15 minutes, Kobayashi is the Lance Armstrong of gastronomic athletes, except that he has more than one testicle and hasn't been dogged by both doping accusations and Sheryl Crow.
Kobayashi continues to be referred to by his nickname "Tsunami" because he is Japanese and the name "Kamikaze" was already taken.
Kobayashi's win means that San Jose State University student
Joey Chestnut
fell short of being America's best hope to reclaim the hot dog-eating title. On the 230rd birthday of this great nation, Chestnut brought great shame to his countrymen by being able to eat only 52 hot dogs in 12 minutes -- loser! This is especially embarrassing since the U.S.A. traditionally places #1 in any competition related to imprisonment rates, contributions to global warming, or excessive eating. I expect Chestnut will soon grip a mustard-laced sword and commit the ritualistic form of disemboweling suicide known as hara-kiri.
I am especially dripping with envy because Kobayashi scarfs all this food and maintains a ridiculously ripped, fat-free, washboard stomach. In contrast, I look like a dashboard Buddha after finishing a mere three bags of potato chips over three consecutive barbecues this weekend and packing on another ten pounds that remains unleaked, despite my regular intake of Olestra pills.
*

Finally, below is a picture of Nathan's competitor Eric 'Badlands' Booker, shortly before yesterday's competition. I implore you to come up with an appropriate caption.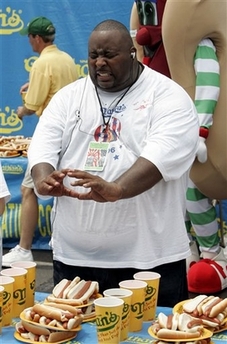 --Junichi