TOP 20 SONGS ABOUT DESIRES TO ENGAGE IN STATUTORY RAPE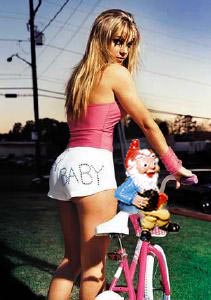 Not A Girl, Not Yet A Woman
Top 20 Songs That Include Lyrics Referencing Sex With Minors:
Don't Stand So Close To Me - The Police
Bad Babystitter - Princess Supastar
Do Me - Bell Biv Devoe
Rebel, Rebel - David Bowie
Guilty Conscience - Eminem feat. Dr. Dre
Girl, You'll Be A Woman Soon - Neil Diamond / Urge Overkill
I Saw Her Standing There - The Beatles
Big Ole Butt - LL Cool J
Wrong Way - Sublime
The New Style - Beastie Boys
Age Ain't Nothin' But A Number - Aaliyah
Hot Blooded - Foreigner
(She's) Sexy and 17 - Stray Cats
I Love Rock 'n Roll - Joan Jett and the Blackhearts
Does Your Mother Know - ABBA
You're Sixteen - Ringo Starr
13 and Good - Boogie Down Productions

I'm On Fire - Bruce Springsteen
Givin' Up The Nappy Dug Out - Ice Cube

I Luv U - Dizzee Rascal

Yes, there are many more, including multiple versions of "Jailbait." Feel free to leave titles I missed in the comments.

There were many songs I was tempted to add but ultimately left off the list since the underage element is unclear: "P.Y.T." by Michael Jackson, "My Sharona" by The Knack, and every other song by R. Kelly.

Thanks to J. Ingalls, S-Dog, and Conrad Von Snugglebottom for the help.

--Junichi