THE STREETS OF LONDON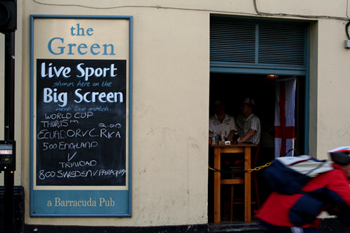 The only other man outdoors speeds home to watch the game.
It's both exciting and eerie to be in London while the World Cup is taking place.
With English flags ubiquitously draped on every corner, it's obvious that football is the main religion of Brits.
For the last two matches in which Beckham & Co. competed, the streets and shops of London were empty, save for those of us walking to the local
Dixie Chicks concert
. But every pub was filled beyond capacity with roaring fans holding a mug of beer.
It's easy to imagine all the riots of yesteryears given how drunk and patriotic everyone gets. The
BBC was forced to shut down its big outdoor screen
in London because of fights.
The scary part is that there seems to be a thin line between football fans and the kind of nationalistic fervor that led to Britian colonizing half the globe. I'm guessing something similar could be said about German fans.
In this way, it's refreshing that most Americans aren't into the World Cup. (Or is enthusiasm low because the USA has no chance of winning?)
On a mostly unrelated note, when I took the picture below, the fourth man from the left said, "Smile boys! Japan is taking a photo!"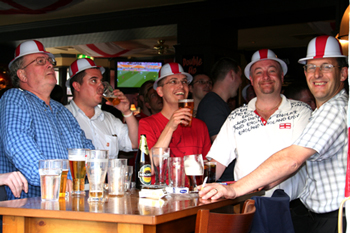 --Junichi