BANANAS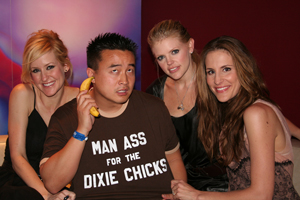 Yellow on the Inside, White on the Outside?
Yours truly ended up in this morning's
Washington Post
: "
Chicks Magnet
"
As I mentioned
here
, being referred to as a "Chicks Magnet" in the
Post
is an especially huge accomplishment for a short and stocky Asian guy with an enormous Pez collection. I also humbly recommend you read the
back story
on the photo the
Post
ended up cropping.
In any event, this whole gig continues to be banana split: bananas, nuts, and pretty sweet.
---
(Oliver adds: Just to point out that we are legion (we = Asian Americans in the media), the
Post
piece was written by J. Freedom du Lac, the paper's pop music critic, though I've always knew him as Josh, dating back to his days working for the
Sacramento Bee
.
Though "J. Freedom du Lac" is not quite as AZN a name as "Jackson Wong," "Harvard Lee," or Ella Sakiyo Jian-Yi Mizota-Wang, let me assure you that Josh is down with the yeller (and even
gets awards
from yeller journalist associations for his accomplishments). Therefore, I was pretty damn tickled to see an old acquaintance profiling an old friend (wholly coincidentally I might add) for something like the
Post
. Like Virginia Slims and Fatboy Slim, you've all come a long way, baby. --O.W.)
--Junichi