WHERE (NOT) TO MOVE
Your uterus is not free to move about the country
USA Today just published an article that analyzes
the states likely to criminalize abortion if the Supreme Court eliminates women's reproductive rights
, which, in my opinion, will be gone in a MMMBop.
As you can see from the above map, the dark blue states -- the places likely to keep abortions legal -- can all be found out west or in the northeast. You'll notice a strong correlation between the blue states above and the blue states from the 2004 electoral college map.
Which is to say, once Roe v. Wade is reversed, we'll see a lot more women from the south and the midwest travel out-of-state for unplanned vacations.
* * *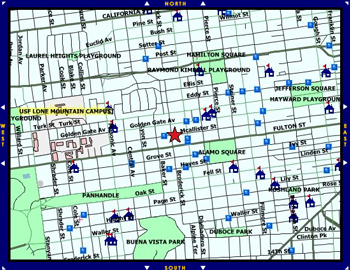 Neighborhood map courtesy of Megan's Law: blue square = sex offender
Speaking of maps, while those of you in South Dakota ponder moving to less oppressive areas, you may be curious to visit the state-specific
Megan's Law website
.
Curiosity certainly killed my inner cat. After being provided a link, I couldn't resist looking through
California's sex offender registry
to learn how many offenders live within a two-mile radius from my home. (Answer: seven. Coincidentally, they're all dwarfs.)
I also learned their full names, their exact addresses, their crimes, and viewed their pictures, which was a creepy experience on multiple levels.
On the one hand, I appreciate knowing whether my neighbor is a registered pedophile. (He's not ... yet.) I suppose I find it comforting to discover that there are less convicted rapists than Starbucks cafes in my town.
On the other hand, these registries uncomfortably infringe on privacy rights and are almost as invasive as
my wedding registry
.
While I believe sex offenders deserve punishment, these registries penalize those who have already served their time. (Yes, I know,
the Supreme Court doesn't agree with me
.) With the growth of the Internet, these registries render it much more difficult for the "registered" to become fully rehabilitated, re-enter society, and receive trick-or-treaters on Halloween.
Of course, the biggest issue posed by these websites is that other troubled people can easily navigate them to create a mapped and illustrated hitlist in just seconds.
Predictably, this happened yesterday when Stephen Marshall
murdered two registered sex offenders in Maine
. As of now, there is no evidence that Marshall knew either of his two targets. But it's clear that he had government-sponsored access to the victims' photos, addresses, and list of crimes.
In light of yesterday's Easter-morning double homicide, I wonder if the Supreme Court would still maintain that these Megan's Law websites are not punitive.
--Junichi