CHRONIC CANDY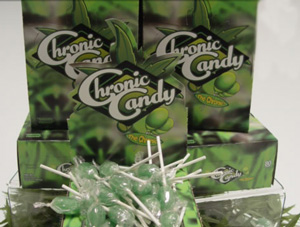 Now there's some Pop Licks!
It's ironic.
Alameda's got the Chronic and
the Lakers beat the Supersonics
.
But now, Alameda County -- home of People's Park, birthplace of the Free Speech Movement, and arguably one of the most pot-friendly areas of the country (relatively speaking) -- may become only the third county to ban products by
Chronic Candy
, which makes "marijuana-flavored" suckers, chewing gum, and other candies.
None of the Chronic Candies contain THC or other illegal ingredients. But in pushing for a ban, various Alameda Board of Supervisors are arguing that it promotes illegal behavior and is a
gateway to drug use
.
Supers,
please
. Obviously, it's the other way around: marijuana is a gateway to Chronic Candy. Everyone knows you get the munchies
after
you've taken a hit.
If Alameda County wants to ban anything that "promotes" marijuana and other illegal behavior, it would have to outlaw entire genres of music, close 75% of the stores on Telegraph Avenue, cancel multiple college courses, shut down most political rallies, infiltrate countless advocacy groups, and block college kids from going to the SF Planetarium, which is essentially what the Patriot Act does.
While this proposed law might be laughable, its passage would be scary since it essentially bans a person's (or company's) point of view, which is clearly protected speech. It's the equivalent of banning ganja t-shirts or Cypress Hill albums.
Granted, I think Tony Van Pelt, Chronic Candy's owner, is entirely disingenuous when he suggests that concerned parents should use the candy as a tool to teach their children about the dangers of drug use. He suggests that they "
use Chronic Candy to have that conversation at home about drugs. ... Say why this product isn't for us as a family
." Whatever. Mr. Van Pelt knows that such a family conversation will boost sales of his "Sticky Icky Buds" by 900%.
(And what kind of a fake name is Tony Van Pelt? That's Linus and Lucy's last name! Considering the origin of Snoop Dogg's moniker, marijuana advocates apparently like to reference Peanuts characters. Isn't that right, Peppermint Potty?)
Needless to say, this ludicrous proposal is a clear violation of the First Amendment and, ultimately, counterproductive.
How many licks does it take before the Alameda County Board of Supervisors realize that a proposed ban -- even if passed -- will only increase Chronic Candy's sales by 9,000%?
--Junichi