HOW TO FLY SOLO IN THE CARPOOL LANE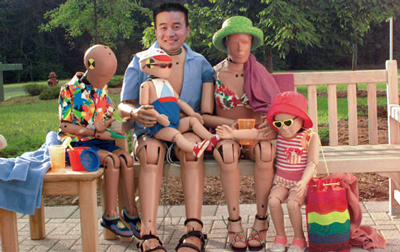 Carpooling for Dummies

As a solo commuter, I often brainstorm creative ways of justifying getting into the carpool lane.
Some of my earlier carpool schemes have been tranquilized after I learned in traffic school that neither dead bodies nor fetuses count as "passengers."
(Note to my insurance company: I did not go to traffic school because I got a speeding ticket going 80 mph on I-5; I simply wanted to further my legal education.)
Sometimes, I consider just risking getting in the carpool lane while driving lone-bone. If I ever get pulled over, I'll just argue that, as a schizophrenic, my car was filled with multiple persons. And if that fails, there's the good ol' "Jesus is my co-pilot" defense.
Since cops just use their eyes to ID violators, a dummy seems like the best bet. This idea may not always work, as Kevin Morgan from Petaluma found out when he tried
dressing up a legless mannequin in a Miami Dolphins jacket
. Greg Pringle, from Denver, Colorado, attempted this gimmick and failed, too. But on the bright side,
he ended up selling his failed dummy on eBay for $15,000
.
I'm not going to say whether I've actually pursued this idea and whether it's worked.
But I will say that
Modern Mannequins
sells very lifelike mannequins and they are currently having a sale.
--Junichi