SPY vs. SPY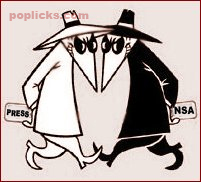 The Chickens Come Home to Roost
At a House Republican retreat, President Bush made a few public statements before reporters and then asked the press to scoot, so he could privately discuss and defend his National Security Agency eavesdropping/domestic spying program to fellow GOP leaders.
But after reporters exited, Bush's microphones remained on,
allowing the journalists outside to eavesdrop on the president
, who himself was defending the right to eavesdrop.
What beautiful irony.
Sadly, the press didn't discover any juicy secrets.
(Or they were killed and we'll never know what they heard.)
--Junichi