OUR DEVELOPMENT IS NO LONGER ARRESTED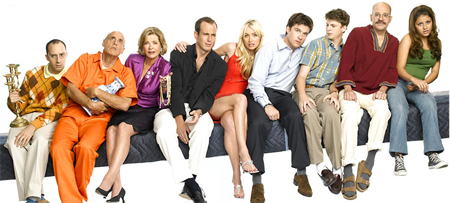 Tonight may be the series finale -- a.k.a. the death -- of
Arrested Development
, as Fox airs the
final four episodes
of the season.
If America had my tastes, tonight's ratings would surpass the final episodes of
M*A*S*H
and
Seinfeld
, and we'd all be eating nachos for breakfast.
But sadly, 99% of the world has never watched the greatest show in the history of television. Plus, Fox dumped these final episodes into one night -- with little fanfare -- to air against NBC's opening ceremonies of the Winter Olympics.
Let us AD fans use the comments of this thread to mourn and comfort each other in our time of loss (until Showtime or ABC decides to come to our rescue).
--Junichi