THE MORE INTERESTING OLYMPICS
The Bode Miller of Punjab
I tried watching the Winter Olympics but found myself more riveted by reruns of
The Golden Girls
on Lifetime (especially after downloading
an entire album worth of songs sung by the Golden Girls
).
The only Winter Olympic event that comes close to being entertaining are the contests that involve shooting guns while skiing (a.k.a. Dick Cheney on ice).
I would tune in religiously, however, if NBC instead aired the
Rural Olympics
which just finished in Kila Raipur, India.
From what I can gather from the photos, the event includes fascinating games such as:
car-pulling competition using your teeth

a race where you ride two horses at the same time
a contest to balance a bike in the air using only your mouth
a competition that involves tractors running over your body

a bike race where you ride one bike and hold on to two others
some contest involving orange speedos and gigantic wooden popsicles

and chariot races where a man stands on a cart pulled by a pair of bulls
The featured event was apparently a cow that jumps over bikes and tractors (moon was unavailable.)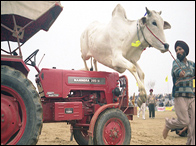 This amazing heifer above would be udderly fascinating to watch live, unlike this year's opening ceremonies, which reminded me of an extended "Torrance Community Dance Group" routine from Fatboy Slim's
"Praise You" video
.
--Junichi