30 FACTS THAT ARE DIFFICULT FOR ME TO ACCEPT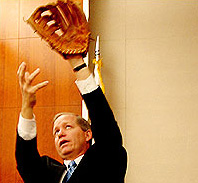 Popov strikes out in court
Here are 30 more facts that are difficult for me to accept:

An advertising agency angered Johnny Cash's family in 2004 when it proposed using Cash's "Ring of Fire" for hemorrhoid cream ads.



Alex Popov (owner of Smart Alec's in Berkeley), who originally caught and then litigated to keep Barry Bonds' record 73rd home run baseball, ended up winning only $225,000, half of the auction sale price of $450,000. However, Popov ended up accumulating over $473,530 in legal fees. His former attorney then sued Popov for the money, causing Popov to spend even more on a new lawyer. Which is to say, Alex Popov lost over $250,000 from catching Barry's ball.


The title of Paul Simon's song -- "Mother and Child Reunion" -- derives from the name of a chicken and egg entree he spotted on the menu of a Chinese restaurant.




Red Bull is a foreign import from Austria, although it is based on a Thai beverage popular with rickshaw drivers called Krating Daeng (กระทิงแดง), which translates into English as Red Bull.



In Numbers 22 of the Bible, the Biblical figure Balaam has a conversation with a talking ass.



"Don't Phunk With My Heart" was nominated for this year's Grammy award for Best Rap Performance By A Duo or Group.



Donald Rumsfeld holds the record for being the

oldest

Secretary of Defense ever, as well as the

youngest

Secretary of Defense ever (when he served under President Ford from 1975 to 1977).



Ghost

was nominated for an Academy Award for Best Picture.




There is a word for the sexual pleasure derived from enemas: klismaphilia (or klysmaphilia)




Young MC has released five albums since "Stone Cold Rhymin'" in 1989.



The United Nations Convention on the Rights of the Child, which forbids capital punishment for juveniles, has been signed and ratified by all 194 UN member countries except for two: the United States and Somalia. (According to Wikipedia, Somalia is currently unable to ratify the treaty because it has no recognized government.)



Jodie Foster began her acting career four decades ago, in 1969, when she made her acting debut on television with a guest spot on Mayberry R.F.D.




The cost of obtaining the rights to the

Clerks

soundtrack (approx. $27,000) was more expensive than the entire production costs of the film itself (approx. $26,800), which was a first in motion picture history.



The cost of the Iraq war may exceed $2 trillion.



Stephen Chow, director of Kung Fu Hustle and Shaolin Soccer, tried getting Canadian citizenship but was denied by Canadian immigration because of his alleged links to underground gangs in Hong Kong.



Somebody is making a movie based on the arcade game Pac-Man.



Dubya's first appointment to the FEMA directorship was his friend and campaign manager, Joseph Allbaugh, who also lacked experience in emergency management.



Porn star Paris Hilton made the list of Top 10 Most Inspirational Celebrities of 2005 in a poll of teenage girls.


Some spend thousands to travel to South Africa for "scalpel safaris," where patients undergo plastic surgery and look at exotic animals while recovering.


In 2002, a Dallas Cowboys cheerleader raked in only $50 per game.



Charles Ingram won the top prize in Britain's version of "Who Wants To Be A Millionaire" with the help of his wife and a system of "coded coughs" from a friend in the audience. (They were later convicted of cheating.)



The state motto of Wyoming -- which has passed significant anti-gay legislation and has yet to pass hate crime laws protecting gays and lesbians, despite the murder of Matthew Shepard in that state -- is "Equal Rights."



Bill Ripken's (Cal Ripken's brother) 1989 Fleer baseball card included the phrase "F@CK FACE" on his bat.


In 2005, Hollywood studios brought in revenue of $8.9 billion, compared to the estimated $12.6 billion worth of pornography sales in 2005.


1 in 5 Americans think the best way to become wealthy is to win the lottery.


Supreme Court nominee Samuel Alito was once a member of Concerned Alumni of Princeton, a campus group opposed to the growing numbers of women and people of color accepted into Princeton.



Despite fact #26 above and Alito's extensive record as one of the most right-wing appellate judges, 77% of Americans still don't have much of an opinion on him.




George Takei (a.k.a. Mr. Sulu), who recently came out of the closet, is now the announcer on Howard Stern's show on Sirius. And he's a great addition to the show.



After Hurrican Katrina, the conservative Heritage Foundation actually had the gall to capitalize on the disaster and issue position papers that advocated repealing the Clean Air Act and rewriting the Clean Water Act, permanently eliminate capital-gains taxes on all investments made within the area, suspend all zoning regulations, and slash the wages that private contractors are required to pay workers on federal reconstruction projects. (Source: RS)


Not too long ago, we Americans -- while at war, led by a president implicated in numerous scandals, and during hearings regarding a pivotal Supreme Court vacancy -- would not have cared much about whether Angelina Jolie is pregnant with Brad Pitt's child.

You can also check out the previous 30 facts and the original 50.
Labels: Facts That Are Difficult To Accept
--Junichi