TOP 20 ALBUMS OF 2005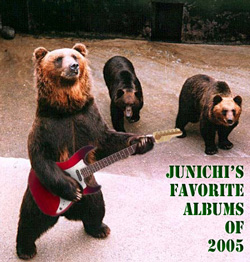 Here below are my picks for best albums of 2005. O-Dub will be writing about his choices next weeks.
1.

Plans

- Death Cab for Cutie
* Dude, I know this ain't cool ... especially since this is Death Cab's first major label record deal, after several excellent albums on an indie label. I can hear the hipsters screaming "sell-outs!" with every ounce of their vegan marijuana breath. But I'd be fronting if I pretended that any other CD had a greater impact or more frequent rotations on my playlist. Plus, this isn't exactly some Neptunes-produced TRL-friendly album; my favorite song, "What Sarah Said," is a ballad about watching someone die in the hospital. With the solo acoustic "I Will Follow You Into The Dark," Ben Gibbard proves that he doesn't need his band or Postal Service producer Jimmy Tamborello to mesmerize an audience. Beautiful, every track.

2.

Multiply

- Jamie Lidell
* As embarassed as I may be a few years from now when Jamie Lidell turns out to be the Jamiroquai of 2005, I'm not hesitant, at the moment, to declare
Multiply
one of my favorite funk/soul albums. Lidell seems to channel Otis Redding, D'Angelo, James Brown, and every artist on the Stax label, underscored with the occasional electronic blips and ProTools beat-chopping that reminds the listener that the record was not actually made in 1967. Unfortunately, the best Lidell song of 2005 is the Gonzalez-remix of "Multiply," which ain't on the album.

3.

Arular

- M.I.A.
* Is there anything left to say about Sri Lankan refugee Maya Arulpragasam (a.k.a. Missing In Action) that hasn't already been ejaculated from fawning critics worldwide who diagnosed her with hip-atitis? I do have this to say, however: what kind of musical industry nominates Sugarland, Keane, Ciara, and Fall Out Boy for the "Best New Artist" Grammy and leaves out M.I.A.? Interestingly, a gaggle of folks seem to have turned on her now that she's everyone else's favorite and after she lent "Galang" to a Honda commercial. But "Bucky Done Gone" and "10 $" still sound like the freshest thing this side of the millennium.

4.

Be

- Common
* We've
already argued this one
to death, haven't we? I was ambivalent at first. But after a few months, I can say that this is one of the few hip hop albums this year that I can listen to in its entirety without wanting to skip tracks. The excellent videos for "Go," "Testify" (featuring future Oscar-winner Taraji P. Henson), and "The Corner" also help to seal the deal.
5.

Vertically Challenged

- Lady Sovereign
* The grime wave just spit out a tsunami. This album may be just an EP, but Lady Sovereign's American mini-debut is as addictive as Cheetos-flavored OxyContin laced in crack. With only a few tracks, this UK MC flips every script she can get her 19-year-old hands on. Combining her wit with dirty beats, sass with drum & bass, and charisma with silly lyrics, Ms. "EssOhhVee" beats Mike Skinner and Dizzee Rascal to the throne of British hip hop, in my humble opinion. Apparently,
Jay-Z agrees
and Timbaland/Missy are planning to collab. Here's to 2006!

6.

Speak for Yourself

- Imogen Heap
* My favorite vocalist of this decade is Imogen Heap. Originally, I credited the perfection of Frou Frou's "Details" album (on which Imogen does vocals) to producer Guy Sigsworth. But this album makes clear that her voice, which is a fine instrument in every sense of the word, deserved as much credit. One of my favorite songs of 2005 is "Hide and Seek," which is an a cappella track from this album. Who else can get away with an a cappella lead single? Neither Alanis nor Tracy Chapman nor Tori Amos even thought about that.
7.

Late Registration

- Kanye West
* Let's recap all the things we've learned from this album: the government administers AIDS, conflict diamond manufacturers have a symbiotic relationship with drug dealers, Ronald Reagan cooked up heroin to stop the Black Panthers, and Kanye's grandmother would not be ill had she been a professional basketball player. While Ye may not be as eloquent as KRS-One or as militant as early-90s Ice Cube, he has the mother of all monster 'nads. With the chutzpah to say things very few MCs dare touch, Mr. West swings a set of balls that match the width of his head and the weight of his production skills. Yes, his flow is mediocre, but with lines like "The doors was closed / I felt like Bad Boy's street team: I couldn't work the LOX," this album would have been on my top 10 list, even if Rick Astley laid down the beats.
8.

Illinois

- Sufjan Stevens
* If any musical professor snob tries to argue that "rock and roll" can never be as inventive and complex as classical music, this is Exhibit A in my counterpoint. Sufjan Stevens is a one-man orchestra who plays banjo, piano, glockenspiel, harpsichord, a bunch of woodwind and brass instruments, and sings over complex interlude-filled musical structures that have time signatures that would make any metronome blow up from confusion. Of course, the classical music snob will probably recoil when he hears a gorgeous epic folk ballad about serial rapist/killer John Wayne Gacy Jr. But the obvious Illinois references littered throughout the CD provide for a fun "Where's Waldo?"-like audio experience, except when he's singing about un-fun subjects like bone cancer. By the way, given this is the second of Sufjan's ambitious goal to do a travelogue album of all 50 states (he started with Michigan), I hope I live to see the California box set and the Delaware CD-single.
9.

The Cookbook

- Missy Elliott
* Just because Missy says that "I'm in the studio droppin hits from my booty hole" does not mean this album is full of stinkers, like some critics suggest. Yes, she is officially the 3,294,102nd person to sample "Apache," but the marching band rendition of it at the end of "We Run It" is sick. The drumline also makes an appearance in "Bad Man" with Vybez Cartel and M.I.A., which could have been a breakout second single had Atlantic not seemingly ceased promotion after "Lose Control." Yes, there are skippable slow jams, but this is a great party disc. Without Timbo handling all the production, this album may not be as musically inventive as her others, but her confidence and playfulness has crested. Did I mention that she rhymes "booty hole" with Coolio?
10.

Ruby Blue

- Roisin Murphy
* Moloko's lead singer solo debut has yet to make it on this side of the pond, which is America's loss (unless they download it from iTunes). Sounding like nothing else, this is the ultimate genre-bender: the songs range from cocktail torch to r&b sizzlers to folk cabaret to electro-house seizures that sound like Basement Jaxx, Nellee Hooper, and Four Tet had a ménage à trois in the studio. Producer Matthew Herbert gets credit for making the kind of music/noise you hear in a SF bar that compels you to ask the bartender what CD is playing. Download the title track"Ruby Blue," "Dear Diary," and "Night of the Dancing Flame" now and thank me later.

11.

Extraordinary Machine (the Jon Brion version)

- Fiona Apple
* In case your head has been lodged up your distal orifice all year, you should know that Fiona abandoned her original version of this album with original producer Jon Brion (a primarily non-hip-hop producer who recently helped to produce Kanye's latest album) to collaborate with Mike Elizondo (a primarily-hop hop producer most famous for working alongside Dr. Dre and Eminem). The official released album isn't bad, but I prefer the instrumental arrangements on the unreleased bootleg version, especially on the tracks "Not About Love," "Red Red Red," and "Used to Love Him." Fiona's sultry voice and thick chords deserve the more colorful instrumentation. Either way, both albums open with the same Jon Brion-produced "Extraordinary Machine," which is the best opening number to a musical that isn't from a musical.
12.

Demon Days

- Gorillaz
* I am a fan of Dan the Automator, the producer behind the Gorillaz' debut album, but his absence here on this sophomore follow-up is not missed at all. Danger Mouse does a stupendous job on the boards, cornering the market on cartoon-based productions. Occasionally, the music sounds derivative: "Dirty Harry" sounds like a remix of Fat Joe's "What's Luv" and "Feels Good, Inc." sounds like a mashup with Cake's "Never There." Furthermore, the lyrics are entirely incoherent: why is Damon Albarn singing about windmills while De La Soul is spitting verses about chocolate attacks and ass cracks? I have no idea, but Danger Mouse's eclectic and unpredictable production makes this the unusual encore of a concept album that actually is an upgrade. Too bad the Gorillaz didn't score King Kong.

13.

Digital Ash

in a Digital Urn / I'm Wide Awake It's Morning

- Bright Eyes
* I know, I know. These are two separate albums. But you take the best from both and you have yourself one mighty fine record. "Arc of Time" from Digital Ash is the stand-out track that rises above all others like a resurrection, which, coincidentally, is what that song is about. (I think.) Conor Oberst's uber-emo vocals usually force me to take him in small doses, but on these albums, his songwriting talent overpowers any emotive melodrama that otherwise might sap my energy.
14.

Anniemal

- Annie
* I bought this album because of all the hype about her a year ago. Since then, all the critics seem to have moved on. But I keep listening to this, because I'm un-cool like that and, besides, who doesn't have room on their mixtapes for some quality dance-pop-rock. The themes in her album don't distinguish this Norwegian starlet from American teeny-boppers, but the production values - straight from the extended club mixes of the mid-1980s - keep me soaking up adolescent zingers like "u think u r chocolate when u r chewing gum."
15.

Guero

- Beck
* Let's all admit a few things: (1) Beck is easily the coolest Scientologist; (2) we constantly reward his unpredictable chameleon tendencies, given his traversing from hip hop joke songs to acoustic folk tales; (3) but we want nothing more than the Beck of
Odelay
. This album isn't as good as
Odelay
(or
Midnite Vultures
), but the Dust Brothers bring back that laid-back old-school fusion collage vibe that sold me on Beck a decade ago. Is there any album that is more quintessential L.A.? Plus, what other CD would give a shout out to Yanni?
16.

Mouse and the Mask

- Danger Doom
* In Talib Kweli's guest verse, he says "cartoons be realer than reality TV," which is a fitting caption for a year in which two "cartoon" acts put out some of the most inventive hip hop. Can anything go wrong when MF Doom, Danger Mouse, Adult Swim cartoon characters, and Ghostface all collaborate? The opening track rhymes "poop on eBay" with "shoot the DJ" -- and it's all good from there.
17.

Takk ...

- Sigur Ros
* Iceland's second most famous artist (after Bjork, of course) keep delivering their familiar atmospheric crescendos and "Hopelandish" gibberish. (Apparently, this may actually be the first one in Icelandic; I, unfortunately, couldn't say for sure.) This album may not be as stellar as their first two, but it continues their streak of releasing celestial songs that are inventive and epic on the level of Aaron Copland.

18.

United State of Atlanta

- Ying Yang Twins
* What didn't surprise me was the predictable batch of indefensible songs that depend on violent sexual imagery ("beat the p@$$y up," anyone?) that make 2 Live Crew sound like the Mormon Tabernacle. What
did
surprise me, however, is how packed this album is with popalicious beats and compelling lyrics. "Live Again," an empathetic narrative about a stripper, and "23 Hr. Lock Down," a supportive call for Pimp C to be freed from prison, give this album a soul and sense of humanity. And between the undeniable "Wait (The Whisper Song)" and my favorite single "Shake," I can't deny how often I've bounced my head to this album.

19.

Gimme Fiction

- Spoon
* Sure, their minimalism earns comparison to White Stripes and their eclectic noise are reminiscent of Wilco. But this album is one of those singular rock albums that manage to craft pop gems that surprisingly bring me back for seconds. "The Beast and Dragon, Adored" makes me want to buy a reverb for my piano. "I Turn My Camera On" would leave Beck and Pharrell with consolation prizes in a falsetto contest. And will somebody please remix "Was It You?" Let's make this a song for the clubs, too.
20.

Colour The Small One

- Sia
* Zero 7's one-time Australian/British lead singer (and - trivia alert! - the daughter of one of Men at Work's band members) put out this solo acoustic trip-hop folk album that manages to package pensive gems fueled by a major tragedy; Sia's lover was apparently killed in a car accident. "The Bully," co-written with Beck, and "Don't Bring Me Down" highlight her ability to take on Dido in a vocal wrestling match. While some of the tracks have yet to grow on me, the stand-out track - "Breathe Me" - is the best five minutes of music in 2005. It is a gorgeous, intense, and haunting ballad that rises to the level of being sacred.
--Junichi