THE GAY COWBOY IN ALL OF US
Bareback in the Saddle

One of the many things that used to differentiate Orange County (my current home) from San Francisco (my former home) was the lack of the gay aesthetic.
This all changed, however, when a local SoCal country station,
KZLA
, started plastering local billboards and buses with ripped, half-nude cowboys that could pass for one of Abercrombie's gay-friendly Aryan models.
If I hadn't grown up in a homophobic rural county where country music is ubiquitous, I would think KZLA's slogans like "Save A Horse-Ride A Cowboy" are the gayest pick-up lines this side of "Excuse me (to a guy sitting at a bar), do you mind if I push in your stool?"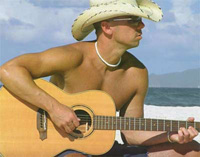 Speaking of gay cowboys, when is country singer Kenny Chesney going to come out of the closet? I mean, why else would Renee Zellweger end their marriage of four months by seeking an annulment and
asserting "fraud"
? If the fraud does not stem from his pretending to be George Straight, what else could it be -- that he is an alien?
Kenny, if country listeners can embrace "
hick hop
" featuring black rap-country fusion acts like Cowboy Troy, I think they can handle you, the gay cowboy. Just because country music is the soundtrack to most hate crimes today and just because 94.7% of country music listeners go hunting for queers and just because "Oh my God! You killed Kenny!" might be the last words you hear does not give you an excuse to remain in the closet.
Finally, staying on the theme of all cowboys being gay, I have to give props to Entertainment Weekly for putting the co-stars of
Brokeback Mountain
(a.k.a. "the gay cowboy movie") on its
cover
with the subheading, "The Year's Most Daring Love Story." It's not often you see mainstream publications associate gay relationships with love on their covers. This confirms my belief that the battle for full equality for gays and lesbians will probably be won one TV show or movie at a time.
I am especially excited about
Brokeback Mountain
beacuse it is directed by Ang Lee, who also directed the excellent
Wedding Banquet
, which tackled gay relationships in the Asian American community.
Hey Ang, I think it's time to bring it all together, complete the trilogy, and do a movie about gay Asian cowboys. And I know just
the perfect guy
to cast as your leading man.
--Junichi