AXIS OF EVIL COMEDY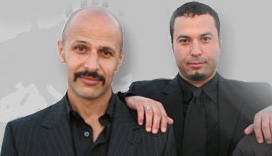 Two funny dudes: Maz Jobrani & Ahmed Ahmed
Racism has undoubtedly fueled and provided material to some of the greatest comedians: Richard Pryor, Redd Foxx, George Lopez, Eddie Murphy, Margaret Cho, Dave Chappelle, Paul Mooney, Damon Wayans, Chris Rock, Wanda Sykes, to name a few.
(Disclaimer: this is not an excuse for continued oppression.)
Following that logic, we are long overdue to have an explosion of comics of Arab, Iranian, Afghani, and South Asian descent. Leading the pack are Egyptian comedian Ahmed Ahmed and Iranian comedian Maz Jobrani, who comprise two-thirds of the
"Axis of Evil Comedy" tour
set to launch in 2006.
I've uploaded an MP3 interview of the two comedians on Fresh Air with Terry Gross. It's just an NPR interview (not exceprts from a stand-up routine), but you get a sense of their comic brilliance.
Here's my favorite line:
"After September 11, because the hysteria about Arabs got way out of hand ... now when I get pulled over by the LAPD, I just tell them I'm black. Because I'm going to get a beating one way or the other. And I don't want to be killed, too."
- Ahmed Ahmed
To download, right-click
here
.
--Junichi