X MARKS THE DICK (AND OTHER RANDOM RAVES)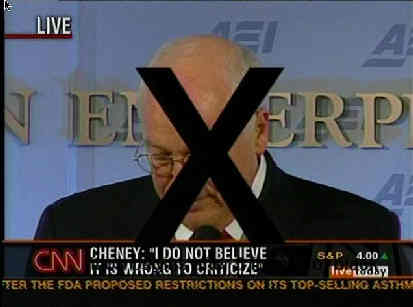 Circle does not get the square

Yesterday, when CNN broadcast Dick Cheney's speech live, a large black "X" repeatedly flashed over the Vice President's decrepit and diabolic face. I didn't actually notice this since I normally see a big flashing X over the face of all members of the Bush adminstration.
Technical glitch
or not, CNN gets a random rave from me.
(Credit: N. Karlsgodt)
Here's other stuff on the Internets that I'd like to praise like I should:
More than two decades after the breakdancing craze peaked, the first data on its long-term health effects was published Tuesday in the Strong Island Journal Of Medicine. "We've found permanent shoulder pop, elbow lock, and spin-neck in '80s-era breakdancers," said Dr. Young MD, the report's author. "For years, many subjects had thrown their hands in the air without exercising the proper care."

Brilliant.
--Junichi