QUESTION OF THE WEEK #33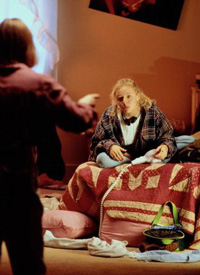 Timeout, young lady! I told you not to look like the drummer from Hanson!
This Week's Question:
Fed up with her high school daughter's grades and poor behavior in school, an angry mother recently forced her daughter to stand on the corner of a busy Oklahoma City intersection holding a large sign that read:


"I DON'T DO MY HOMEWORK AND I ACT UP IN SCHOOL, SO MY PARENTS ARE PREPARING ME FOR MY FUTURE. WILL WORK FOR FOOD."
Since then, the mother has seen marked improvement in her daughter's behavior. Was this a good idea?
--Junichi