POPPIN' FRESH TURNS 40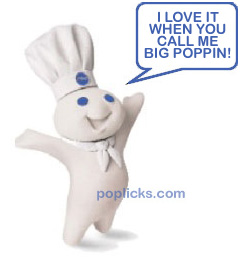 Step back you're giggling kind of close; I feel a little poke coming through.
Poppin' Fresh
-- the official name of the Pillsbury Doughboy -- is now 40 years old. He first rolled with Pillsbury in a crescent roll commercial back in the autumn of 1965.
Poppin' Fresh has a special place in my stomach because he helped me to realize that all people can be divided into two camps: (1) those who smile when they see him ... and (2)
those who want him to die of a yeast infection
.
Regardless of what camp you fall in, check out
this video
, which should please both camps. I'm all about the unity.
By the way, I think we can safely trace all hip hop culture back to the Pillsbury Doughboy given that (a) his name is Poppin' Fresh, (b) he once had a wife named Poppie (
Ay, Poppie!
), (c) he has an uncle named Rollie of Fresh, (d) he inspired the bay area rapper Poppin' Fresh, and (e) he looks a lot like Young Jeezy's
Snowman
.
Happy Birthday, Poppin. You may be over the hill, but you're still getting baked. And that's gangsta.
(Credit for the video: Karl and H-Money 357)
--Junichi