TOP 25 TV THEME SONGS OF ALL TIME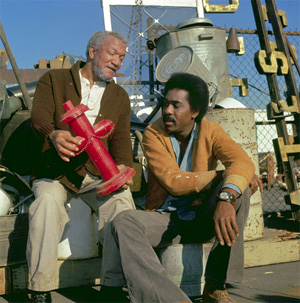 What else would be #1, you big dummy?
After debilitating and deafening internal debate, I have finalized my Top 25 list of Best Television Theme Songs of All Time.
Completing a list of this magnitude is a herculean task for me. For a decade (no joke), I've struggled with what theme songs to include, agitated over what to put at #1, and agonized over every cut.
As for my selection criteria, I considered any song from a regular TV series -- sitcoms, dramas, cartoons, news programs, game shows, etc. -- across all decades. However, I did not consider songs from non-series TV specials (e.g., Vince Guaraldi's "Linus and Lucy" from the Peanuts cartoon specials).
I also excluded any theme songs that were already existing songs prior to the introduction of the television show -- e.g., Dido's "Here With Me" (for
Roswell
), R.E.M.'s "Stand" (for
Get A Life
), Psapp's "Cosy in the Rocket" (for
Grey's Anatomy
), Phantom Planet's "California" (for
The O.C.
).
I also tried to isolate the good theme songs from those tunes that merely get stuck in my head. I've probably hummed Nell Carter's "Gimme A Break" or Marla Gibbs's "227" intro more than any other tune on this list, but I don't think that makes them great theme songs.
Finally, it goes without saying that I tried to ignore the extent to which I like the actual show. (Otherwise, the theme from
Arrested Development
would be at the top of this list, since that show is clearly the best that television has to offer.)
Without any further delay, here is my Top 25 TV Theme Songs of All Time:
Sanford & Son

("The Streetbeater") - Quincy Jones

Six Feet Under

- Thomas Newman

Greatest American Hero

("Believe it or Not") - Mike Post and Stephen Geyer

NBC Nightly News Theme

- John Williams

Theme from The A-Team

- Mike Post / P. Carpenter

Wonder Woman

- Norman Gimbel and Charles Fox

Who Wants To Be A Millionaire?

("Is That Your Final Answer?") - Keith & Matthew Strachan

The Jeffersons

("Movin' on Up") - Jeff Barry and Ja'net Dubois

ABC Monday Night Football

(early 1970s version) - Charles Fox

Family Ties

("Without Us") - Jeff Barry and Tom Scott

The Price is Right

- Edd Kalehoff

Knight Rider

- Glen Larson

The People's Court

- Alan Stanley Tew

Fall Guy

("The Unknown Stuntman") - Glen A Larson, Gail Jensen, and David Sommerville

The Amazing Race

- John Keane

Golden Girls

("Thank You for Being a Friend") - Andrew Gold

Scooby Doo

- H. Curtin/W. Hanna/J. Barbera

Good Times

- Dave Grusin and Andrew Bergman

In Living Color

- Heavy D

Moonlighting

- Al Jarreau

The Simpsons

- Danny Elfman

Silver Spoons

("Together") - Bob Wirth and Rik Howard

Magnum P.I.

- Mike Post

The Streets Of San Francisco

- Pat Williams

Ren & Stimpy

("Dog Pound Hop") - Screamin Lederhosen & Phil Feather
Comment away.
--Junichi