IS DICK CHENEY ABOUT TO RESIGN?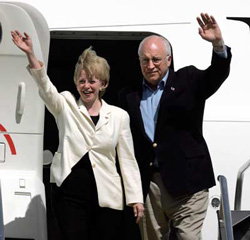 I am
not
a crook!
In case you're not a member of the Dick Cheney blogring, you might not have heard
the rumor
spreading fast through DC that Vice President Cheney will be resigning, in part because of
his involvement
in the Plame/CIA scandal.
Could we be days away from swearing in the first black and first female Vice President in the history of this country?
Might George W. Bush be elevated to the presidency?
Is Cheney so ill that he needs to be cryogenically frozen now, before he dies, in order for him to have the chance to spread evil in the 22nd century?
Are these recycled jokes about Bush and Cheney getting really tired?
--Junichi